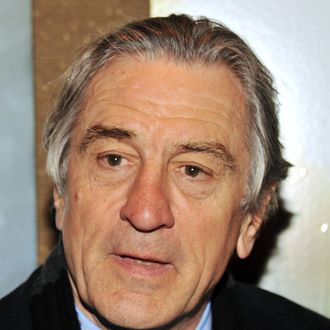 You talkin' to me, Newt Gingrich? Seriously though, you're not referring to me, right?
Photo: Stephen Lovekin/Getty Images
Whoa, what is this edgy joke Robert De Niro told last night at an Obama reelection fund-raiser which Michelle Obama's spokesman found "inappropriate" and Newt Gingrich deemed "utterly and totally unacceptable"?
>
"Callista Gingrich. Karen Santorum. Ann Romney. Now do you really think our country is ready for a white first lady?" De Niro asked to cheers from the crowd. "Too soon, right?"
No no, the offensive joke! The one that is offending people!
"Callista Gingrich. Karen Santorum. Ann Romney. Now do you really think our country is ready for a white first lady?" De Niro asked to cheers from the crowd. "Too soon, right?"