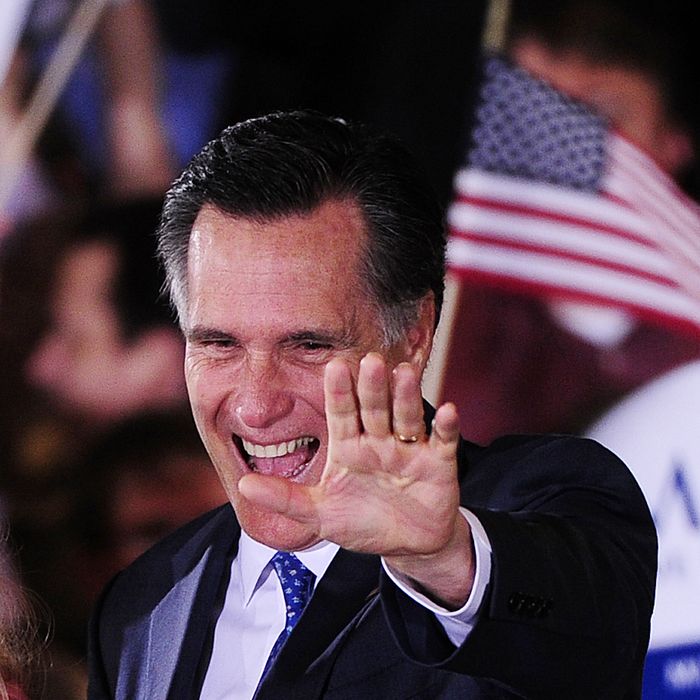 A Southern man don't need him around, anyhow.
Photo: EMMANUEL DUNAND/2012 AFP
One of the odd criticisms that keeps getting lobbed at Mitt Romney is that he's not only failing to attract enough Republicans, but that he's attracting the wrong kind of Republicans. NBC's First Read, for instance, thinks it's a problem that he's weak in the South:
>
Here's another reason why the race isn't over: the South. There is no other region in the country that better represents today's Republican Party than the South, with its deep conservatism, its ardent belief in states' rights, and all of its evangelical voters. And there's no other region in the country where Mitt Romney has struggled more — in 2012 and also in 2008 — than there. He has failed to win over his party's nerve center and frankly, it's logical that Republican pooh-bahs are sitting on the sidelines until Romney proves he can win over some of these folks.
Okay, to start, it's tricky to equate primary performance with general election performance. The primary is a question of who, out of a fairly small population of partisans, you prefer to nominate for your party. That's a pretty different question than who you prefer in the general election. You can glean some lessons, though. Barack Obama struggled with blue-collar white Democrats in the primary, and that carried over into the general election, where there was a wide strip running across Appalachia where he did worse among whites than John Kerry.
Competing nominees are almost always going to appeal to different kinds of voters. But you're always better off appealing to the kinds of voters who are less loyal to the party. It's probably a concern that Romney struggles with low-income voters, as he'll need them in November.
But his struggles with Evangelicals and the South are the opposite of a problem. Obviously, you want all the votes you can get. But if you're in a competitive primary, you're by definition not getting all the voters on your side. And the best group of voters not to be getting are voters who are certain to support you in the fall.