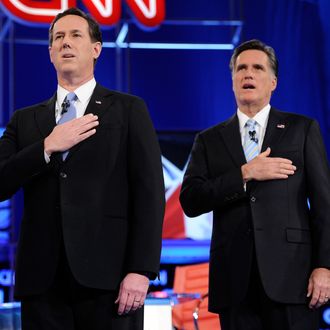 Photo: Ethan Miller/2012 Getty Images
GQ has revealed the Secret Service names Romney and Santorum have chosen for themselves: Javelin and Petrus, respectively.
Javelin was presumably selected to honor Mitt's favorite ancient weapon. Petrus is Latin for rock and the source of the Biblical name "Peter" — but that wouldn't be appealing to the Santo we know. He probably chose the name to honor his favorite (red) wine, Pétrus, a very expensive Bordeaux produced mostly from Merlot grapes. When Senator Scott Brown recently discovered that Santorum was using the Secret Service, he zinged that it was probably the first time Santorum had ever "used protection."
Other Secret Service code names have been equally silly. Obama's code name is Renegade, George H.W's was Timberwolf, and Barbara Bush's was Snowbank or (or!) Tranquility. Reagan's was — what else? — Rawhide.
The code names are not, alas, actually very secret or relevant now that every electronic device within a mile of the White House is quadruple-encrypted.  The Secret Service seemed to want to break it to us gently that they keep the names around largely because of tradition — that is, to indulge our West Wing fantasies. Ed "Destroyer of Dreams" Donovan, Special Agent in charge of government and public affairs, told GQ:
"Call signs are designated jointly by Secret Service and the military (White House Military Office) for communications purposes. Given modern capabilities to secure communications through encryption, there is no longer any security relevance to protectee call signs."
Okay, Ed, but what about the tooth fairy?