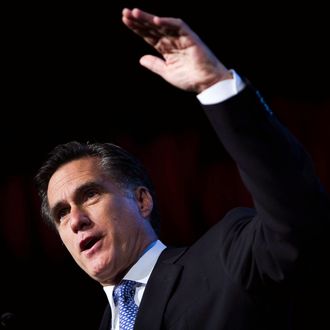 Photo: Brendan Smialowski/Getty Images
Mitt Romney has won the Puerto Rico primary, scooping up all twenty delegates from the U.S. territory. Rick Santorum traded in his schoolboy navy sweater-vest for poolside khaki shorts earlier this week, but apparently the clothes did not make the man in this primary.
It seems Romney wins most decisively in tropical locales, making the weather in Illinois all the more crucial before this week's primary. Mother Nature is keeping an eye out for Mitt: It is, somehow, going to be 82 degrees in Chicago on Tuesday.