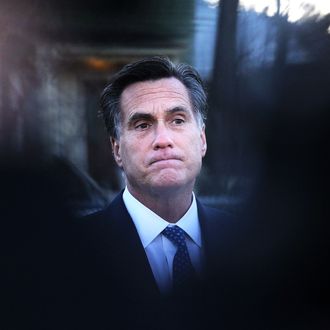 His friends aren't good at talking about wealth, either
Photo: Justin Sullivan/2012 Getty Images
Mitt and Ann Romney have said their fair share of silly things about money recently. Mitt's assurance that he had friends who own NASCAR teams didn't help his populist cred, and Ann's comment that she didn't consider herself wealthy landed with a thud on the Internets last week. Now Ken Griffin, founder and CEO of Chicago-based hedge fund Citadel and a Romney supporter, has told the Chicago Tribune that the super-rich have an "insufficient influence" on politics.
Griffin has given $150,000 to the Romney-supporting super PAC Restore our Future. He describes himself as a "Reagan Republican" who is also a fan of new Chicago mayor and former Obama chief-of-staff Rahm Emanuel, who recently gave Griffin a tour of his new office. And why don't the rich have enough influence on politics? "Those who have enjoyed the benefits of our system more than ever now owe a duty to protect the system that has created the greatest nation on this planet," says Griffin. Griffin gave to Obama in 2008 but has been at the forefront of a very public disappointment with the president by a certain slice of the really rich. 
Mitt probably isn't thrilled with Griffin's choice of words, bolstered as the presidential hopeful may have been by this weekend's victory in the Guam caucus.