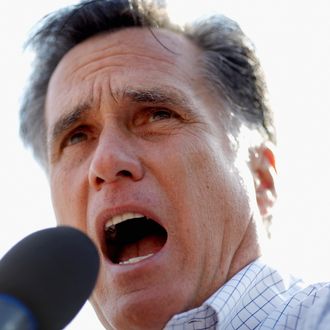 Photo: Chip Somodevilla/2012 Getty Images
The National Organization for Marriage, the group that made headlines this week for planning to "drive a wedge between gays and blacks" to defeat the
"pro-gay Obama agenda," got a $10,000 donation from Mitt Romney's super PAC in 2008. But Romney didn't support NOM publicly: records filed by Free and Strong America, Romney's super PAC, with the FEC did not include details of the donation. NOM's public 990 form didn't reveal anything about the transaction, either. The Human Rights Campaign was sent a private IRS filing, which it shared with HuffPo today.
The donation was made when NOM was seeking the passage of Prop 8 in California.
Eric Fehrnstrom, the top Romney adviser responsible for the Etch A Sketch gaffe, told the Deseret News in 2008 that Romney supported Prop 8: "The governor feels strongly that marriage is an institution between a man and a woman, and one of the most high-profile fights on this subject is happening in California."
A Romney aide told HuffPo that the donation had been made through Free and Strong America's Alabama chapter — Alabama is known for its lenient campaign-finance filing laws. However, the NOM 990 form lists the donation from PO Box 79226 in Belmont, the Massachusetts town where Romney hangs his hat (when he's not in Utah or La Jolla).
After all that, NOM's co-founder and former chair of the board, Maggie Gallagher, still endorsed Santorum.