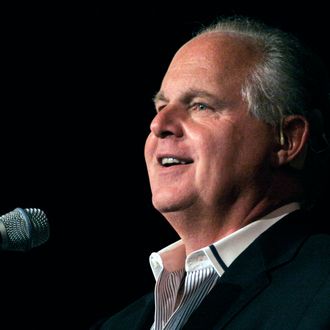 Bill Pugliano/Getty Images
Photo: Bill Pugliano/2007 Getty Images
The sound and fury over Rush Limbaugh's misogynistic tirade may, in the end, have meant little to nothing. A month after calling Georgetown law student Sandra Fluke a "slut" and "prostitute" for testifying in favor of contraception coverage, Rush seems to be in the clear. He's on the air almost everywhere, his bosses are dismissing the controversy, and his advertisers are returning — in fact, most of them never even left. 
And, when it comes to reach, Limbaugh's hasn't waned a bit. Of the 600 stations that air his show, MoveOn.org tried to get him removed from 180, through a round of petitions. In the end, only two took him off the air.
On Monday, Limbaugh's syndicator, Premiere Radio Networks, gave local and regional stations the go-ahead to restart "barter" ad packages that were suspended when the controversy hit. As Rachel Nelson, spokeswoman for the network, put it,
Contrary to the wishful thinking of the professional special interest groups, reports of sponsors fleeing the 'Rush Limbaugh Show' are grossly exaggerated. In fact, the program retains virtually of all its long-term sponsors.
Amid the firestorm, some speculated that Limbaugh could be replaced by former Arkansas governor Mike Huckabee — that never materialized. In fact, Robert Pittman, CEO of Clear Channel — the company that distributes Limbaugh's show — dismissed the Sandra Fluke kerfuffle as "part of the normal day-to-day of talk radio." He told the AP that he was "delighted" to still have Limbaugh, "the king of radio," on his team. His company has not lost sleep or many dollars since the scandal hit.
All's well that ends well, right?