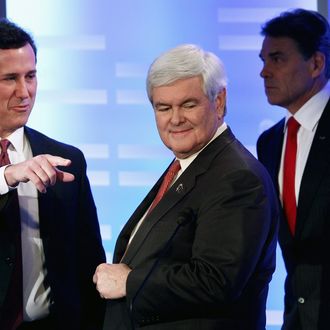 You leave town tonight. Right now. And when you're gone, you stay gone, or you be gone.
Photo: Win McNamee/Getty Images
Having been entrenched by three Super Tuesday victories as the GOP race's chief Unviable Romney Pesterer, Rick Santorum is now pressuring the race's Assistant Unviable Romney Pesterer, Newt Gingrich, to drop out, so as to concentrate and unify all Romney-pestering efforts. 
>
Rick Santorum's campaign is calling on conservatives to pressure Newt Gingrich to abandon his bid for the White House, a senior adviser told reporters tonight….

"We're never going to call on anybody to get out, but what we are calling is on Tea Party supporters and conservatives is to rally behind the only candidate that has demonstrated over and over again that he's the one who can compete against Mitt Romney," Brabender said.
An adviser to a Santorum-aligned super PAC was more explicit today:
"Based on his electoral performance last night and his out-of-step record, it is time for Newt Gingrich to exit the Republican nominating process," said Stuart Roy, a Red White and Blue Fund adviser.
Santorum's backers are undoubtedly right — Gingrich's continued presence, by splitting the conservative vote, has helped Romney retain his position as the front-runner and will continue to do so.
But five weeks ago, it was Gingrich who was leading the charge against Romney and Santorum who was siphoning votes away from the Cause. When Gingrich called on Santorum to drop out, Santorum refused, telling Fox News:
"My message is everybody should run, whoever wants to run, whoever wants to be in this race. I don't think people should be telling other folks to get out of the race and get out of my way. If you want to run a race, run a race. You don't ask someone to quit just because you think you're the better candidate."