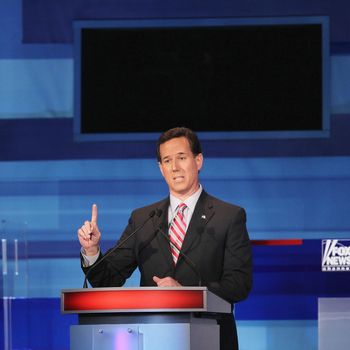 Reading is not fundamental.
Photo: Scott Olson/Getty Images
Hatred of TelePrompTers has become a thing for Republicans. It's a way of expressing their odd belief that President Obama is an inarticulate dolt capable of stringing sentences together only when they appear in front of him — a belief totally at odds with the record (see, for instance, his 2008 debate performances) but strangely compelling to the conservative faithful. Now Rick Santorum, characteristically, is taking it that one extra step by proposing to ban TelePrompTers:
>
"I always believed that when you run for president of the United States, it should be illegal to read off a TelePrompTer. Because all you're doing is reading someone else's words to people. You know, when you're running for president, people should know not what someone's writing for you after they've had pollsters and speechwriters test it."
Santorum is probably not proposing to literally make it illegal to use TelePrompTers while running for office. But he does seem to be saying that candidates should not only be forced to memorize their speeches, but should not use speechwriting at all.
Does he really believe this? Is he pandering? Or maybe his campaign doesn't have enough money to buy him a TelePrompTer.