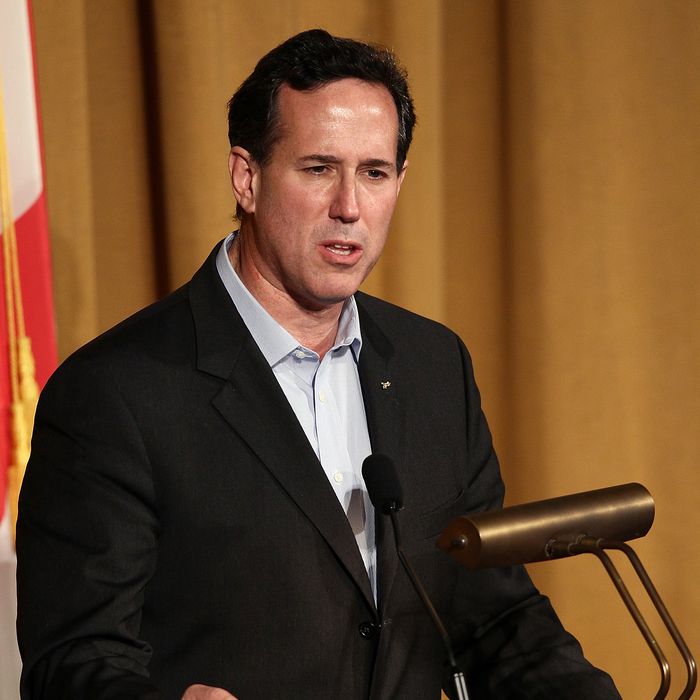 Photo: Win McNamee/Getty Images
This Wednesday, Rick Santorum released a late financial filing that disclosed almost $95,000 in new speaking fees. Most of the speeches were given to conservative non-profits and right-to-life groups — with the odd exception of Nestle Waters, who apparently paid the former senator $20,000 to speak. But the strangest line item of all has to be the $6,000 forked over by the Messianic Jewish Alliance of America, a group affiliated with the "Jews for Jesus" movement. And it's possible that earning the money and support of these pro-Jesus Jews could hurt him among regular ones.
Santorum is hoping to run to the right of his rivals on Israel, and maybe pick up a few hard-line Zionist votes along the way. He's claimed that the West Bank is "part of Israel" and told AIPAC that President Obama has "turned his back on the people of Israel." But "Jews for Jesus" — the definitely-not-Christian, heavily-proselytizing sect — has been the subject of a lot of ire from Jews, especially right-wing ones. For example, the Anti-Defamation League has condemned the "duplicitous proselytizing of Jews by groups such as Jews for Jesus and so-called 'Messianic Jews.'" David Shor, spokesman for the pro-Santorum group Jews Pick Rick, said that Messianic Jews seek to "spiritually corrupt our community."

This kind of catch-22 is a familiar one. Sarah Palin caught flak in 2008 for attending a sermon given by the "Jews for Jesus" executive director in Wasilla, Alaska. 
According to Politico, who broke the story, the Messianic Jewish Alliance folks acknowledge that they're not too popular among "traditional Jewish voters." Nevertheless, said Joel Chernoff, the organization's executive director and a Santorum supporter, "Israel could not have a better friend than [Santorum] … and I think most Messianic Jews would probably say that."
But though they like Rick, it turns out he wasn't their first choice to speak — just the cheapest one. They first tried, yes, Sarah Palin, and then Canadian Prime Minister Stephen Harper for their 2010 conference. "Rick was our next call, because we liked him," Chernoff told Politico. And "in the pantheon of fees, his wasn't that big."