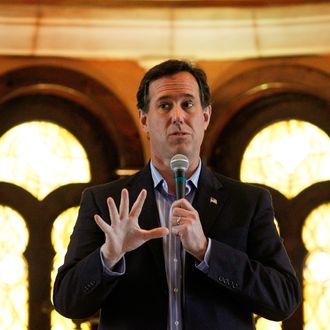 Photo: Tom Pennington/2012 Getty Images
As Republican leaders are rallying (well, at least standing) behind Mitt Romney, eager to finish up this circus of a primary season, Rick Santorum is facing yet another obstacle on the road to non-inevitability.
This time, it's with his own base: Catholics. Evangelical Protestants and Tea Party voters have formed the core of Santorum's support, but his fellow Catholic Republicans are looking to Mitt.
Cathy Willauer, a 50-year-old Roman Catholic from Maryland, told the Times:
"While my personal values may align more closely with Senator Santorum's, I feel Governor Romney is more willing to tolerate different views and values, and the president of the United States has to accept and respect the right of every American to believe as they will."
Times have changed: in 1960, Catholics voted overwhelmingly for JFK, but the next Catholic presidential candidate, John Kerry, lost the Catholic vote to George W. Bush in 2004. Obama won the Catholic vote over McCain in 2008.
Santorum's path to devout Catholicism was chronicled in the Washington Post earlier this month. In an interview, Karen Santorum's mother, Betty Lee Garver, described a dinner with Karen and Rick Santorum where an anti-abortion film, "Meet the Abortion Providers" was screened. Garver says that dinner made the couple "instantly pro-life." Garver described herself and her husband as "devout Catholics, not cafeteria Catholics."
Karen Santorum has said that the line she hears most often from voters on the trail is "I'm praying for you." But according to a recent Pew survey, only 42 percent of Catholic Republicans actually knew that Santorum was Catholic.
When Santorum was asked on Fox last week why he wasn't winning more Catholic votes, he was confused: "I really wish I could tell you."