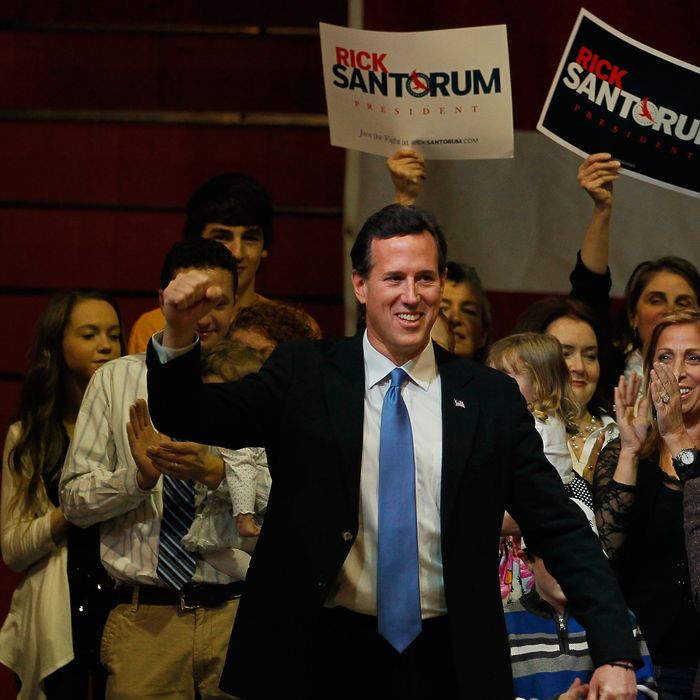 "Here's looking at you, Kansas."
Photo: Joe Raedle/2012 Getty Images
Yesterday was Caucus Day in Kansas, and it wasn't much of a contest: Rick Santorum secured over half of the 30,000 votes cast, giving him the majority of the state's 40 delegates. Of course, Santorum was the only candidate to seriously campaign there, as Newt Gingrich and Mitt "Grits" Romney spent most of their energy this week going after Mississippi and Alabama, which vote on what we personally have decided to call Southern Tuesday. With his rivals largely absent (Ron Paul stopped in early in the day), Santorum had the opportunity to make an uninterrupted case, calling out Newt Gingrich for two-timing the Republican party in a 2008 anti-global warming video ("I didn't sit on a couch with any other woman. I sit on a couch with my wife, not Nancy Pelosi.") and criticizing Romney for "[Reinventing] himself himself for whatever the political occasion calls for." He added, "People may not like everything I believe in. People may not agree with everything I believe in. But they know that I believe in what I believe in."
That last bit of poetry played well in Kansas, whose large population of evangelical Christians got behind Santorum's signature social agenda. "I believe in acts of God," the candidate told an approving Topeka crowd, referring to his still technically possible chances of beating out Romney for the Republican nomination. However, higher powers (those looking after Santorum, anyway) were largely absent from the day's other contests — Wyoming, Guam, the Northern Mariana Islands —  which were all Romney blowouts. The tiny U.S. Virgin Islands, southeast of Puerto Rico, did put up something of a fight, though it was on behalf of Paul, who took one delegate. (Romney took 26, while one went uncommitted.)

All in all, depending on your math, Romney added 39 delegates to his column, while Santorum added a not-unimpressive 36 — though, considering the Wyoming caucuses were called for Romney, it's unclear whether there's been any double-counting here. As for Gingrich: With nary a recent delegate to his name, he's now saying he'll stick it out even if he does lose in Alabama and Mississippi — states he'd previously said were must-wins for him. (Gingrich polled just 0.5 percent of the vote in Wyoming, which is just not good.)

The grand total still gives Romney 454 delegates, more than his three opponents combined, which means that unless Rick Santorum can nab Tuesday's two big states (where recent polls show Romney in the lead) and drive Gingrich out of the race, Romney's long slog to the nomination will remain on track.