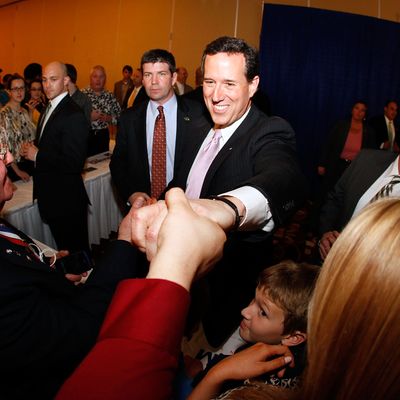 Photo: Sean Gardner/2012 Getty Images
My 8-year-old daughter caught a glimpse of Mitt Romney on television this afternoon. "Mitt Romney is hilarious!" she exclaimed. I asked her why she thinks that. "Because," she replied, "he always gets himself into trouble!"
It's a pretty apt summary. One of the classic elements of comedy is seeing a dignified figure subject to humiliation, and there has been no shortage of humiliating moments for Cheese Grits Mitt this week.
Romney predicted he was "going to win" in Alabama. Tonight he lost there and in Mississippi. In the worst possible outcome for him, not only did he finish third in both states, but Newt Gingrich lost as well. Money is Santorum's biggest obstacle, but his second biggest obstacle is the continued presence of Gingrich in the race to divide the crazy-right vote.
Will Gingrich get out? This is the biggest moving piece in the race. His campaign has previously described both Mississippi and Alabama as must-win states. He is a regional candidate whose best-case scenario was to win a southern bloc and take the delegates to a divided convention. But if he can't win southern states, he lacks that rationale. On the other hand, his continued presence in the race is highly valuable to Romney and the Party Establishment, and maybe he wants to leverage that asset. You never really can predict anything with Gingrich.
Gingrich was the only reason the two southern states were even remotely close. Their sheer bloody-minded determination to nominate a genuine maniac as opposed to a fake one overwhelmed Romney's Establishment support and massive financial advantage. These people have been told that Romney is all but certain to win and that an extended race will be hurtful, but they do not care.
Now, a word is in order about the deep south. The other day, PPP found that large chunks of the Alabama and Mississippi Republican electorates continue to doubt that Barack Obama is a Christian. My good friend Michelle Cottle, a southern expatriate, took umbrage that this was "cultural profiling." Okay, but why are these states the first ones we've seen that have sullen convicts in garish prisoner stripes hauling around ballot boxes? We have been able to follow primary voting in many other parts of the country without wondering if we had dropped in on a scene from Cool Hand Luke. A flustered Wolf Blitzer, taking in the scene, commented awkwardly, "they've been asked — they've been told, actually" to haul ballot boxes. What we have here is a failure to communicate.
And speaking of a failure to communicate, the Republican war on TelePrompTers has poetically backfired. It began as a quasi-racist meme among the fever swamps of the right, a way for right-wingers to express their belief that Obama is a brainless talking doll. By catering to it, Republicans backed themselves into a position where they can't use TelePrompTers at all. The result is a series of rambling election night speeches that manage to be at once frightening and dull. The speeches, like the race, just go on and on and on.