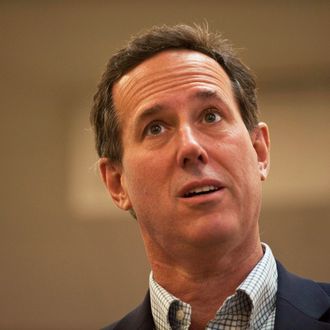 Battling Romney and bullshit.
Photo: Julie Denesha/Getty Images
As Rick Santorum's campaign staggers across the country, desperate and underfunded, he continues to throw haymakers at Mitt Romney, whom it appears the GOP is begrudgingly coalescing around as its presidential nominee.
"Pick any other Republican in the country," Santorum told supporters in a rally near Racine, Wisconsin, Sunday night. "[Romney] is the worst Republican in the country to put up against Barack Obama. Why would Wisconsin want to vote for someone like that?"
Santorum used a similar line last week and on this night, lashed out on reporters concerning the "worst Republican" line. He also offered context for that label.
"On the issue of health care. That's what I was talking about, and I was very clear about talking about that. OK?" Santorum told reporters who asked him about the scathing criticism. "Come on, guys, don't do this. I mean, you guys are incredible. I was talking about Obamacare, and he is the worst because he was the author of Romneycare."
Pressed further by the New York Times' Jeff Zeleny, who asked if Romney is the "worst Republican to run," Santorum reportedly said, "'Quit distorting my words. It's bullshit.'" Zeleny added that Santorum clarified he was talking health care.
Got it, people? This is a bullshit-free zone.