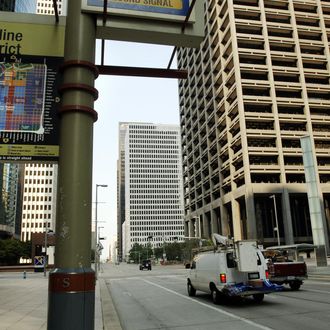 Houston: a more interesting city than we had imagined.
Sarah Tressler, a 2008 graduate of NYU's School of Journalism, has a very full schedule: She's a reporter at the Houston Chronicle, and also a stripper.  Tressler, 29, is a society columnist for the Chronicle and a former adjunct professor at the University of Houston. The Chronicle's rival paper, the Houston Press, has exposed her double life. 
Tressler had already done plenty of writing about her nighttime life before the Press called her out. Until recently, she maintained a public Facebook blog titled "Diary of an Angry Stripper," where she told tales of her nighttime life. One such adventure: a "somewhat disappointing" sexual encounter with Jeremy Piven.
According to the Press, her co-workers at the Chronicle are less than pleased with Tressler's Lois Lane act:
Furious because she barely bothers to conceal her identity and they're worried about the reaction from the "ladies who lunch" when they inevitably find out that they've been hosting an active stripper at their benefits. And furious because she "flaunts" her "stripper money" around the office in the form of expensive designer clothes and handbags. And furious because the Chron staff feels like she's just using them as fodder for a future roman a clef.
Neither Tressler nor the Chronicle's editors have commented on the story yet.