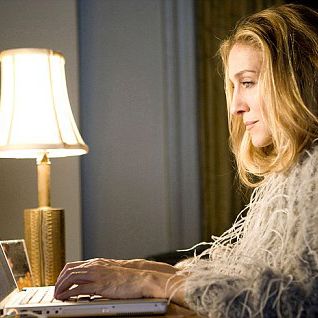 Scary sweater not included in purchase price.
Photo: New Line/Everett / Rex Feature
As I stared at the news that the brownstone where Carrie Bradshaw lived out her fictional life is for sale, I couldn't help but wonder: Was this all there was? Four stories, five bedrooms, and six fireplaces? $9.65 million? To the outside world, this brownstone probably seems like it has it all. The perfect address, 64 Perry Street. The perfect look. But had the brownstone gotten so caught up in its own fame that it had forgotten what it actually was about?
Later today, I got to thinking about relationships. The ones we have with our environment, and the people closest to us. Why did the previous owner move out after just four months? After all, the most exciting, challenging and significant relationship of all is the one you have with your real estate. Maybe real estate is like shoes, or men — you're always seeking the next Big thing. But I began to ponder: is it possible that the brownstone so badly needed the constant adulation of  annoying tourists walking by to stare at its famous stoop that it had ignored the most important relationship of all, the one with its owner? Had we, single women of New York still buying expensive cupcakes and complicated cocktails, become victims of self-parody, just like the brownstone? Was it possible that it, and we, had become … stoop-id?