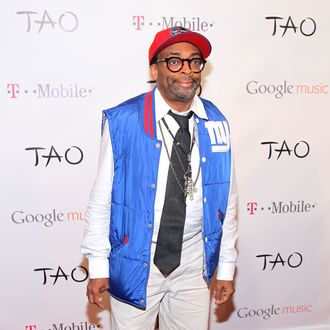 Neilson Barnard/Getty Images
Photo: Neilson Barnard/2012 Getty Images
Twitter and Facebook are abuzz with purported addresses for George Zimmerman, Trayvon Martin's shooter. Spike Lee retweeted one of them to his 240,000 followers. Now thousands of people are disseminating it with the threat "he gone learn today." The problem is, it's fake. According to the Smoking Gun, the house in question actually belongs to an elderly couple who have nothing to do with George Zimmerman — and are now absolutely terrified.
David McClain, 72, and his wife Elaine, 70, both work for the local school system and are keeping all the doors locked after being confronted by a TV reporter and receiving strange, Skittles-themed mail at home. They say they're "afraid."
As the Twitter echo chamber continues to magnify the false address, the elderly couple is considering taking legal action. "Maybe we should get a lawyer and send a cease and desist letter to Spike Lee," said Ms. McClain. Katt Williams and Kevin Hart parody accounts have also retweeted the address, fueling the fire. 
The house hoax was started last week by a Los Angeles man named Marcus Higgins. When spreading the address on Twitter, he claimed that, "like the fat punk he is, [Zimmerman] still lives at home with mommie & daddy." On Facebook, he urged followers to "reach out & touch him." Another post seemed to indicate that Higgins had friends scoping out the elderly couple's property:
"MY PEOPLE OUT THERE IN FLORIDA JUST TOLD ME GEORGE ZIMMERMAN IS NOT AT HIS HOUSE THEY OUT THERE RIGHT NOW."
Higgins even waved a sign with the address on it last Friday. Spike Lee has yet to remove the tweet or post a correction.
The Smoking Gun says that Higgins may have mixed up George M. Zimmerman (the shooter) with W. George Zimmerman, Elaine McClain's son from a previous marriage who lived at their house over seven years ago.