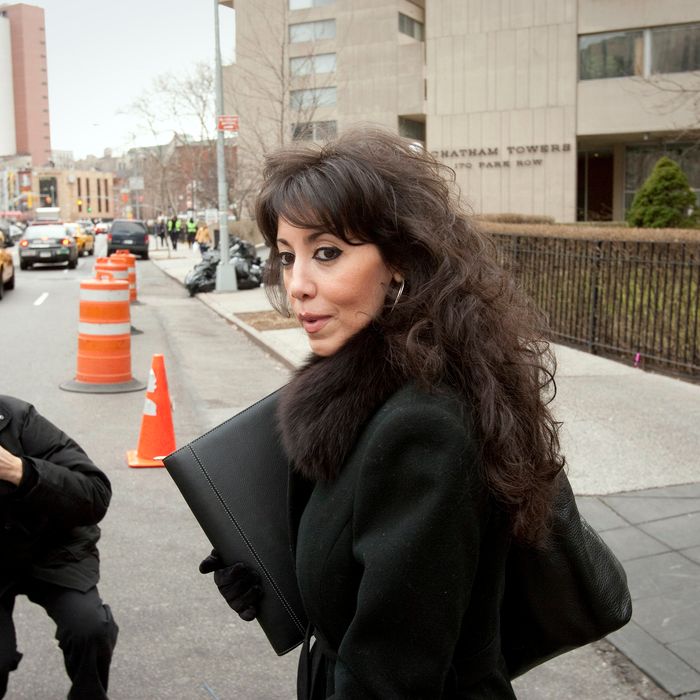 Sandy Annabi, former Yonkers city councilwoman, exits federal court in New York.
Photo: Scott Eells/Bloomberg via Getty Images
Brooklyn-based developer Forest City Ratner is not facing any criminal charges in a juicy corruption trial of a political operative and a former city councilwoman in Yonkers. But the trial, which began in mid-February, has shed some light on the nebulous web of politicians and politicians-turned-lobbyists that were working to approve a $650 million Forest City real-estate project.
Forest City's need for a City Council vote in favor of the Ridge Hill project in May, 2006 helped set the stage for the trial of political fixer Zehy Jereis and ex-Council member Sandy Annabi. The pair face multiple federal corruption counts regarding some $170,000 he allegedly gave her over the years in cash and gifts.
Jereis, who has a previous conviction for election fraud, claims he was driven by an infatuation for Annabi, a distant cousin for whom he was a political mentor. Annabi, who denies any romantic relationship, says she ultimately changed her vote on Ridge Hill and another developer's project, also part of the trial, because the developers made concessions.
In May 2006, Forest City Ratner had four out of seven votes on the Yonkers City Council, but it needed a fifth to overcome an objection by the county planning board. (Project supporters on the council actually overturned the supermajority requirement, only to have a judge reinstate it in a lawsuit led by Annabi.) Despite having hired two of Westchester's most-wired lobbyists — Al Pirro, a lawyer who saw his license suspended after a felony conviction and who is married to Jeanine Pirro (then the Westchester DA), and ex-Assemblyman Mike Spano, the brother of State Senator Nick Spano — Forest City couldn't get a yes vote from Annabi, who had claimed the developer was "robbing the city blind." According to testimony given in the Yonkers trial, it couldn't even get a meeting with her.
 
Bruce Bender, until recently Forest City's top government-relations executive, dialed Annabi at her office at St. Joseph's Hospital in Yonkers, where she hung up on him. Bender, former chief of staff to City Council Speaker Peter Vallone, played a crucial role in getting Atlantic Yards built for Forest City despite vociferous neighborhood opposition, and was taped by the FBI in a profanity-laced conversation with then state Sen. Carl Kruger, who later pleaded guilty to corruption charges.
At one point, Bender expressed his frustration with Mike Spano, who is now the mayor of Yonkers. "No fucking around. Get Sandy on board. Tell your brother [State Senator Nick Spano] we need help now," he wrote in a September 2005 email that was later introduced as evidence.
In June 2006, Forest City finally made a connection, thanks to an ally, Brooklyn Assemblyman Joe Lentol. Lentol knew a Yonkers guy, Joe Galimi, who knew Jereis from local politics. According to testimony, Galimi organized a lunch at Marco Polo Ristorante in Carroll Gardens, Brooklyn, where he, Jereis, and Lentol met Bender and his colleague Scott Cantone. Marco Polo, known for its old-style Italian food, was an interesting choice for a business meeting: Owner Joseph Chirico was convicted for laundering Mafia money in 2008.
 
Over lunch, Jereis agreed to get a meeting with Annabi. And after Annabi and Jereis met twice, she agreed to support the Ridge Hill project. Annabi said the decision was based on the developer's pledge to pay an extra $10.8 million over three years to the city — a sum one fellow council member and project supporter, testifying in court, deemed "kind of peanuts."
 
Not long after Annabi's July 11 yes vote on Ridge Hill, Forest City agreed to hire Jereis for a one-year, $5000-per-month consulting job, purportedly to help both with "retail hunting," finding potential development sites, and local lobbying. But court testimony from Cantone suggests the job — which ultimately netted Jereis a total $15,000 over three months — was little more than a no-show thank-you gift.
"If Zehy Jereis had not produced Sandy Annabi's vote, would he have been hired by Forest City Ratner?" prosecutors asked Cantone in court.
 
"It's hard to say, but probably not," Cantone acknowledged.
 
Was Forest City aware that Jereis had paid $10,000 for Annabi's Mercedes, paid off her loans, and otherwise rewarded her financially?
 
"Absolutely not," Cantone replied forcefully. "If we had any inkling of any of the accusations or facts, we not only would not have been meeting with him, we certainly wouldn't have hired him."
 
"Between June 2006 and the present, what of any value did [Jereis] bring to Forest City Ratner?" prosecutors asked Cantone.
 
"Besides providing access to Council Member Annabi, nothing at all," he replied.
The trial, still in the prosecution phase, could last another two weeks.

 Brooklyn journalist Norman Oder is the author of the Atlantic Yards Report blog, and is working on a book about the project.