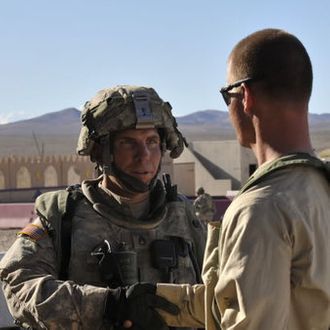 The soldier (left) was ID'ed as Staff Sgt. Robert Bales on a military website since taken down.
Photo: This photograph is protected by United States copyright law and may not be reproduced, distributed, transmitted, displayed, published or broadcast without the prior written permission of the copyright owner. Licensing requests should be sent to photosales@nytimes.com.
Much of what is known of staff sergeant Robert Bales, the U.S. servicemember who killed sixteen Afghan civilians a week ago and is now imprisoned at Fort Leavenworth, has come from neighbors and friends in the small Washington town where he lived with his wife and two children. They describe him as a patriot with a large American flag flying in the front yard and a good family man. They universally expressed shock at the horrific act he is accused of. But now we can look directly into the Bales family, thanks to the Times' Jennifer Preston, who was able to screencap parts of a blog kept by Bales's 38-year-old wife, Karilyn. The blog, titled simply "The Bales Family," and Karilyn's Facebook page have since been taken down.
Online, Karilyn chronicled the joys of parenthood. Of her 2006 pregnancy with their first child, she wrote, "I get the hiccups all the time these days, I always think that Bob [then on deployment] is thinking about me." When the baby itself hiccuped a few days later: "I guess Bob was thinking about her too." When their daughter Quincy was finally born in December that year, she wrote excitedly that her husband had called from a Kuwaiti airport. "It was so good to hear his voice. I told him how the birth went and he got to hear Quincy squeaking in the background." When the baby said its first words, she blogged that, "Much to Daddy's happiness, she now says 'D' as in Dadadadadada."
Throughout all of this, it seems, Robert Bales was away from home. But when he was there, he was the model father — one Easter Sunday he was there decorating eggs with their daughter, even as he prepared to return to base.
Where the blog is most insightful is Karilyn's last post. It was March 2011, and Robert had just been passed over for a promotion to E-7, sergeant first class.
It is very disappointed after all of the work Bob has done and all the sacrifices he has made for his love of his country, family and friends. I am sad and disappointed too, but I am also relieved, we can finally move on to the next phase of our lives. […] We are hoping that if we are proactive and ask to go to a location that the Army will allow us to have some control over where we go next."
The silver lining was that the family might be able to get a transfer to, say, Germany (their top choice because it provided the "best adventure opportunity") or Italy, or maybe to Hawaii ("nuff said"), or even, if need be, Kansas, where Robert's family lives, or Georgia, where he could become a sniper teacher. In a hopeful coda, Karilyn wrote:
Since this is such an unknown path for us I am hoping to blog about it and look back in a year to see how far we have come from right now. A guess its a blog time capsule. I often wonder what ups and downs my parents went through and what they pondered in order to get through them. I hope Q and B enjoy reading about the decisions that Mom and Dad wen through during their lives.
It has now been a year since Karilyn wrote those words, and instead of seeing "how far we have come," she and her two children are sequestered at the Joint Base Lewis-McChord, where her husband had been stationed, for their own protection.