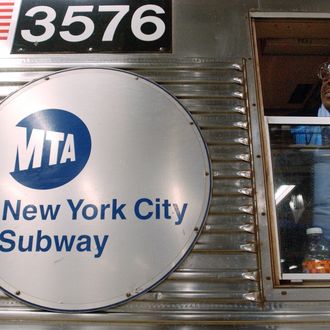 Photo: Spencer Platt/2003 Getty Images
Last week, a college student was killed at the Bedford Avenue L-train stop when an assailant pushed him onto the tracks. Since then, the police have released a sketch of the attacker — who, according to witnesses, was roaring drunk, wandered onto the platform, yelled "Showtime!" and punched the victim in the face. 
Today the Daily News publishes a striking report on the dangers of city subway travel. According to newly released data prepared by the MTA in the wake of last week's killing, fatalities across the system jumped 15 percent in 2011. On average, a passenger is hit by a subway train every two and a half days.
Almost all the deaths described in the MTA report are suicides or accidents, with few violent scuffles like last week's. But still, there's more bad news, even for subway staff: Workplace accidents rose last year. And the number of reported assaults on MTA employees jumped 14 percent.
Why are things getting so much worse down there? According to officials, it might have something to do with the speed of the trains. Local union leaders recently instructed conductors to slow down even more as they arrive at subway platforms.