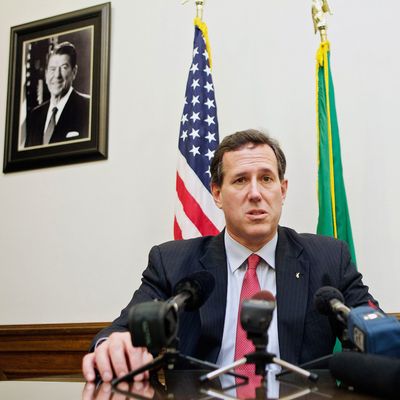 Republican presidential candidate, former Massachusetts Gov. Mitt Romney speaks during a campaign rally at Wrigley Mechanical Inc. on March 1, 2012 in Fargo, North Dakota.
Photo: Stephen Brashear/Getty Images
This morning, Rick Santorum appeared on Fox News Sunday, where he told Chris Wallace that despite Mitt Romney's win in Washington state yesterday, he's optimistic about the long-term prospects of his campaign. According to Santorum, the problem is not Mitt, but his fellow conservative contestants, particularly Newt Gingrich: "It's always harder when you've got two conservative candidates out there running in the race … If you continue to combine the votes that Congressman Gingrich and I get, we're doing pretty well." However, for that observation to matter, Gingrich (not to mention Washington's second-place winner, Ron Paul) would have to leave the race, which probably  isn't going to happen before this week's Super Tuesday matchups. 
So, the real question is whether the not-Romneys can get through the day. Observers are saying that, in order to remain viable, Santorum needs to win in the closely watched Ohio. (Unfortunately, the candidate appears to have made things difficult for himself by failing to meet filing requirements in a handful of congressional districts there.) Meanwhile, Gingrich is banking on his home state of Georgia; as he said himself on Thursday, a loss there would make it difficult for him to remain "credible in the race." While Santorum himself says otherwise, a Romney victory in Ohio — along with other Super Tuesday states — would seem to leave the sometime Inevitable candidate's competition dead in the water, especially now that the Republican Establishment is indicating a desire to see an end to the current war of attrition.

Leonard Curry, the chairman of the Republican Party of Florida, was blunt with Politico this morning, saying, "I'd like it to wrap up just from a purely practical standpoint, which is financial resources. We're spending money and the Obama team is not." House Majority Leader Eric Cantor chose today to go on Meet the Press to officially endorse Romney. And, while South Carolina's Lindsey Graham has yet to endorse anyone, he did tell Politico that Romney ("or somebody") needs to "put together a string of victories" so people can "think about ending this thing." Basically, Santorum's hopes need to get thoroughly dashed: "If we have a split decision, this thing keeps going," said Graham. "How do you go to Rick Santorum, who has exceeded every expectation in the book, and say, 'Rick, you need to quit.'" Of course, Graham added, Santorum's determination is really only a symptom of a larger — and much more long-standing — problem: "There's a segment of our party that just doesn't want to sign on the Romney dotted line."