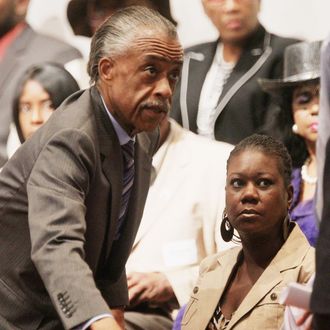 Photo: Mario Tama/2012 Getty Images
In the wake of the outcry over his killing, "Trayvon Martin" merchandise has been selling through the roof: T-shirts, buttons, pins, CDs, DVDs, and more. Now Trayvon's mother, Sybrina Martin, has filed papers to trademark two phrases based on her sons name: "I Am Trayvon" and "Justice for Trayvon." 
The parents are due to appear at a special Capitol Hill forum today, hosted by several Democrats on the House judiciary committee. The pols are expected to call for a repeal of Florida's controversial "Stand Your Ground" gun amnesty law, which some believe contributed to Trayvon's killing. According to the Hill, no Republicans are involved in the afternoon's forum. 
But it's not just politicians who see an opportunity amid the national firestorm.
The "Trayvon" branding spree has swept across hundreds of online merchandise sites. Yesterday, Florida rapper Plies debuted a tribute song, "We Are Trayvon Martin," and began selling T-shirts embossed with George Zimmerman's face and the words "P*SSY ASS CRACKER." And a hoaxer posing on Twitter as Will Ferrell fooled thousands with the tweet: "R.I.P. Trayvon Martin. For every R-T this tweet gets, $1 will be donated to the #TrayvonMartin Foundation, which helps counteract racism."
Reverends Jesse Jackson and Al Sharpton, who have both held blockbuster rallies in the wake of the killing, have also been accused of exploiting the tragedy. A former NAACP leader, C.L. Bryant, told reporters that the pair are "acting as though they are buzzards circling the carcass of this young boy."
Over the weekend, Trayvon's parents warned supporters to watch out for several fake online donation sites, soliciting cash in their son's name.