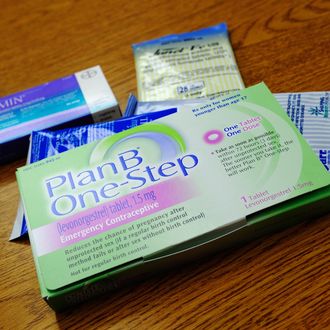 Photo: Kevork Djansezian/2011 Getty Images
If the state of Arizona excels at one thing, it's passing laws that make people angry. Today, an Arizona senate panel voted to give all employers the right to refuse coverage of birth control on their health-insurance plans. The bill is awaiting approval by the State Senate. Arizona Representative Debbie Lesko, a supporter of the bill, explained her rationale to the Arizona Star: "I believe that we live in America. We don't live in the Soviet Union. So government shouldn't be telling employers, Catholic organizations or mom-and-pop employers to do something that's against their moral beliefs."
In other contraception news, the controversial "Women's Right to Know" Act, which would make it mandatory for women to have ultrasounds before getting abortions, made some more enemies today.
Republican Virginia State Senator Ryan McDougle, who backs the bill, received a barrage of posts on his Facebook page today from women who oppose the bill, asking McDougle for gynecological wisdom. One woman, complaining about her period, wrote, "frankly, I've had enough of this inconvenience — the costs of pads and pain reliever and all the mess — well YOU know how it is. You're an expert on this lady stuff." McDougle's staff promptly removed the comments, but not before a screenshot was taken.
Pennsylvania Governor Tom Corbett also chimed in about the ultrasound bill. When asked if he thought it was going too far to make a woman look at her ultrasound before having an abortion, he replied: "You can't make anybody watch, okay? Because you just have to close your eyes." All in all, a rough day for Republicans and ladies.