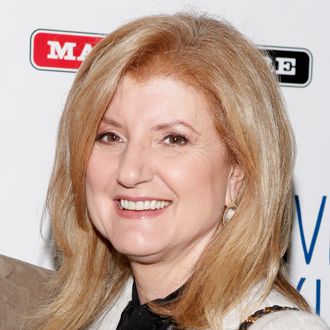 Photo: Cindy Ord/2011 Getty Images
A lawsuit brought by 9,000 Huffington Post bloggers who were hoping to get a piece of the site's $315 million sale to AOL last year has been dismissed. The class-action suit, which contended that the free posts were much of what gave the site its much talked-about, apparently massive value, was thrown out by U.S. District Judge John Koeltl, who concluded that "no one forced" the 9,000 bloggers involved in the action to "repeatedly provide their work with no expectation of being paid, and said they got what they bargained for when their works were published." And what was it they bargained for, exactly? 
Basically, as Columbia Law School professor John Coffee put it to Reuters, it was the chance to write "the electronic equivalent of a letter to the editor. You are rewarded by publication." A lawyer for the group, which also claims that AOL misled them about the pageviews and money their posts generated after the sale, says they are now "reviewing the case" (which, because of the nature of the ruling, cannot be brought again) and "considering their options." Hopefully, this time, those options will be paid ones.