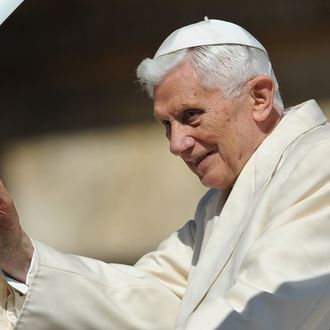 Pope Benedict XVI waves to the faithful gathered in Saint-Peter's square at the Vatican on March 14, 2012 during his weekly general audience. AFP PHOTO / ANDREAS SOLARO (Photo credit should read ANDREAS SOLARO/AFP/Getty Images)
Photo: ANDREAS SOLARO/AFP
The Vatican is in search of a new bank, after J.P. Morgan decided to drop the Holy See as a client. It seems the church has a less than pious reputatation in the banking world. Reuters:
The closure move by JP Morgan Chase, which was also reported by two leading general newspapers on Monday — Corriere della Sera and La Stampa — was a further blow to the IOR, whose image has been tarnished by a string of scandals.

In September, 2010, Italian investigators froze 23 million euros ($33 million) in funds in two Italian banks after opening an investigation into possible money-laundering.

The bank said it did nothing wrong and was just transferring funds between its own accounts. The money was released in June 2011 but Rome magistrates are continuing their probe.
Perhaps Goldman Sachs could be persuaded to take on a new muppet? They do God's work, after all.