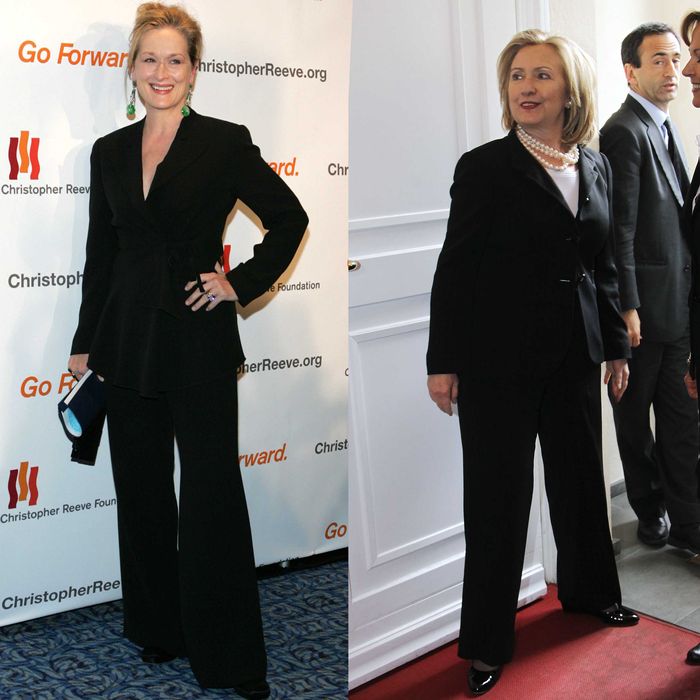 Just the ticket?
Photo: Jimi Celeste/PatrickMcMullan.com, Sean Gallup/Getty Images
Last weekend, following the Women in the World Summit at Lincoln Center, Hillary Clinton and Meryl Streep had a private dinner at Streep's Tribeca apartment. They could have talked about any number of things: where to buy a good pantsuit, for instance. (Clinton joked onstage earlier that evening she was glad Streep didn't make a movie called "The Devil Wears Pantsuits.") Or what it's like to be women of a certain age straight up running the game. Or, after Streep's turn as Margaret Thatcher, perhaps they were talking about biopic options. Maybe they were just watching some recorded Real Housewives together. 
Or a modest proposal: maybe they were plotting. We're sick of reading about how maybe Obama's going to pull a switcheroo and have Hillary run as his vice-president in the upcoming election, and perhaps Clinton is too. Hillary, we know, not so secretly wants the top of the ticket.
Why wait until 2016? Neither Republicans nor Democrats are wild about their options in the upcoming election; it's the perfect chance for a third-party candidate, if the right one were to emerge. And while Hillary Clinton might not have much appeal outside the Democratic base, there is not a man, woman, or child alive in America today who doesn't like — love! — Meryl Streep. Pick Vice-President Streep for the fast track to the presidency! Why not? 
Foreign diplomats would swoon — she'd be able to conduct official business in whatever accent they wanted. Babies wouldn't know what hit them. It's genius. There have been crazier running mate selections, after all.