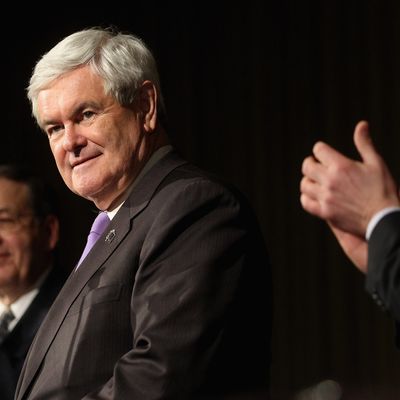 Frankly… fundamentally… profoundly…
Photo: Mario Tama/Getty Images
As Nate Silver says, by far the most important variable in the Republican primary race is whether Newt Gingrich stays in the race or not. Gingrich won his home state, but has performed abysmally everywhere else, not even cracking the top two. Yet he plays a vital function in splitting the vote of conservatives opposed to Romney. Had he already dropped out, Rick Santorum would likely have won Michigan and Ohio, and the race would have a dramatically different flavor.
What will he do? Put yourself in Newt Gingrich's position. You want to be a Republican elder statesman respected for your ideas. You always want to make a lot of money in your influence-peddling business. You're not going to win the nomination. Your main goal is to finish the race in such a way as to maximize your reputational capital and earning potential.
The usual dynamic for hopeless candidates is that, unless they're the champions of a quixotic ideological quest, they drop out when their campaign becomes irritating to the front-runner. But Gingrich is in the unusual position of running a campaign that helps the front-runner. If Santorum bowed out, then the pressure for Gingrich to follow suit would be strong. In the meantime, there's absolutely nothing forcing him out.
Indeed, if you really want to think deviously – and trying to get inside Gingrich's enormous head requires us to do so – you have to imagine that he is thinking of ways to leverage his position. He has something of immense value to offer Romney right now, something that is highly perishable. So if you're Gingrich, don't you approach somebody close to Romney and discuss a trade? A post in his administration, some help from his donor network, maybe some customers for you lobbying historical business?