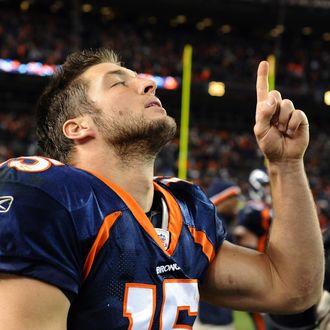 So, he's thinking uptown, then?
Photo: Garrett Ellwood/Getty Images
Now that the NFL's most devout Christian is officially headed to our fair temptress of a city, Daily Intel got to wondering: where will Tim Tebow worship the Lord off the field? He's evangelical, of course, but his exact church affiliations are surprisingly difficult to nail down. So we turned to Tony Carnes, a longtime religion reporter — and founder of nycreligion.info, a group that is mapping out every one of the city's churches — for a walking tour of Manhattan's houses of worship. By his estimation, there are at least 200 evangelical church just south of 125th Street, with probably an equal number north of it. We don't yet know where Tebow is going to live, of course,  and he'll probably want something convenient to home, so below, Carnes's suggestions, arranged geographically.
Upper East Side:
 Manhattan Church of Christ on East 80

th

Street. Tebow's attended the Church of Christ before

 

.
 Redeemer Presbyterian Church's space at Hunter College on East 69

th

Street, the biggest evangelical megachurch in Manhattan, and where Jeremy Lin has been

 

spotted.
First Reformed Episcopal Church near the

UN

, also

 

evangelical.

Teens and Twenties:
Hillsong, a buzzy, mostly youth-filled church known for its rock-style musical worship at Irving Plaza, just off Union Square. "They are practically packed out, so even he'd have to get a reservation," Carnes says. (When Carnes visited recently, he estimated there were as many as 4,000 worshippers

 

present.)
Forefront Church at 22

nd

and Broadway. It's much smaller, but it's Southern Baptist, and so might feel like home, since Tebow was raised in a Baptist church in Jacksonville,

 

Florida.
Heritage Baptist Church on West 25

th

 

Street. 
Communitas on 24

th

Street. "Their only requirement is that people should be involved in helping out their community, particularly the poor," Carnes

 

explains.
Remnant Presbyterian Church on East 29

th

 

Street.
Trinity Grace Church, in Chelsea, led by Pastor Jon Tyson, considered one of the best new preachers in the city.  There are also several churches in the area that double as art galleries, if Tebow is interested in picking up a little New York culture on the

 

side.

Below 14th Street:
In the East Village he could go to Graffiti Church, which ministers to the

 

homeless.
There's also a flash-mob church in the Village, Carnes explains, where you get a text telling you where the services are going to be. Kind of like calling an

 

audible.
If he wants something a little more stereotypically Evangelical downtown, there's Lower Manhattan Community Church in Tribeca, which was inspired by Rick Warren's Saddleback

 

Church. 
Coming back up the West Side, there's the  Redeemer-affiliated Village Church on Hudson Street. If Tebow develops a taste for the Meatpacking District, it could be a convenient Sunday morning stop after a big Saturday night

 

out.

Midtown West/Upper West Side:
If he wants to feel like a tourist in his new town: Times Square Church, a megachurch with between 2,000 and 4,000

 

members.
Or if he wants a quick exit from the city, there's Journey Church, which now meets in the Hotel Pennsylvania near Penn

 

Station.
Further up the West Side, there's a cluster around Redeemer's new West 83

rd

Street building and All Angels Episcopal, an evangelical church specializing in serving the

 

homeless.
Harlem:
Harvard-educated Pastor Dennis Henderson's Harlem Grace Tabernacle, at 256 West 145

th

Street, which Carnes characterizes as "learned preaching with a practical

 

mix."

We didn't include the other boroughs because, well, we can't quite picture Tebow hanging out in, say, Williamsburg. But if Tebow is thinking of living closer to the Meadowlands stadium in New Jersey, Carnes had a few thoughts on that as well.  For one thing, there's Pastor Terry Smith's Life Christian Church in West Orange. "A lot of athletes go out there," he says, so there'd be a built-in community of sorts for Tebow. As for Rutherford, there are at least five evangelical churches there, such as Living Gospel Baptist Church.

Pleasant church-hopping, Tim!