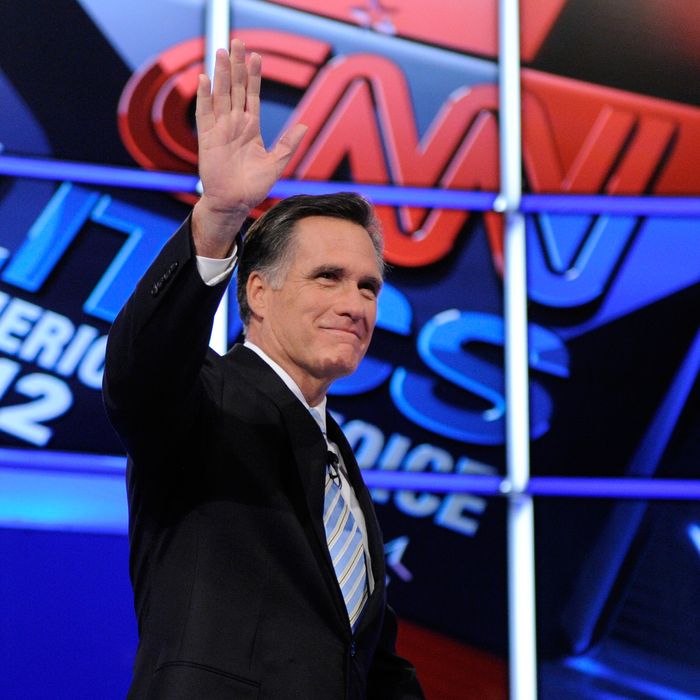 Don't go, Mitt!
Photo: Ethan Miller/2012 Getty Images
For months, a planned March 19 debate in Portland, Oregon, hosted by the Oregon GOP and Oregon Public Broadcasting, has held down the spot as the last primary debate on the calendar. Of course, debates only happen if the candidates actually show up, and Mitt Romney has very little reason to put himself in such a vulnerable position at this point. One of his advisors recently said it would take an "act of God" for Romney to lose the nomination, and that's probably true, but a colossal debate gaffe that gets endlessly replayed online and on TV, a la Rick Perry's "oops" moment, could probably do it too. So, not surprisingly, a couple of days ago, Romney announced that he would not be participating. And that killed it; the debate was canceled this morning. Debate season is finally, officially, over.
Many people, political observers and normals alike, will cheer the end of debate season. Twenty debates has to be sufficient, right? Wouldn't any more just be overkill? 
Wrong, straw man. So wrong. Twenty debates is, actually, a sufficient number of debates. But it's not the number of debates that's the problem, it's the pacing. There were six debates in January, but just one February, and now none in March or for the foreseeable future. Consequently, the candidates very thoroughly debated the issues that were popular in January and before, but not the ones that have arisen over the past six weeks.
For example, you may have noticed that there have been some major developments in Afghanistan since the last debate took place on February 22. Wouldn't it be nice to hear the candidates discuss those events, and be pressed — by one another and by the moderators, before a national TV audience — on their plans for the future of the war? Could anyone in America describe what those plans are right now?
Plus, you know, rising gas prices, John McCain's proposal to bomb Syria, heightening tensions with Iran, Vladimir Putin's re-election, the improving economy, "using birth control makes you a slut," the Kardashian-Hamm feud — all of that. 
So, don't cheer the death of the debates. Ideally, there'd be one every couple of weeks until the race is truly over. But, with Romney understandably unwilling to rock the boat, it would take an act of God for that to happen.