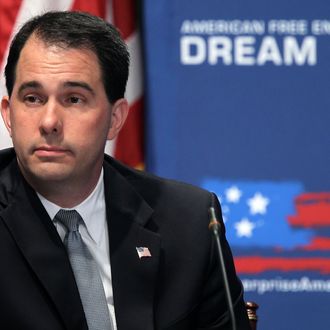 Photo: Alex Wong/2011 Getty Images
The Wisconsin Government Accountability board voted 5-0 to officially order a recall election for Governor Scott Walker after 900,000 people signed a petition calling for the recall. Out of that tally, Wisconsin conservatives were surprised to find only five fake names signed in the petition: Adolf Hitler, Mick E. Mous, Donald L. Duck, Fungky Van Den Elzen, and I Love Scott Walker Thanks (you're welcome?). Update: Fungky Van Den Elzen is an actual human being.
Update 2: A Wisconsin federal court has struck down sections of Walker's law limiting collective bargaining rights. A lawsuit was filed by a coalition of unions last summer. Most of the law remains intact – at least until the recall in June.
There are at least three Democrats, including Milwaukee Mayor Tom Barrett, who lost to Walker in 2010, have confirmed that they will run. A Democratic primary, if necessary, if will he held on May 8th, and the recall vote will be June 5th.
Walker painted the recall as a golden opportunity at a press conference this morning:
"It gives us a great opportunity to tell our story, to tell that we're turning things around, how we're heading in the right direction, how we're moving Wisconsin forward. But we've got a lot more to do."
The embattled Wisconsin Governor has faced a tirade of criticism after passing a law that essentially ends collective bargaining in the historically pro-union state.

Only two governors have been outed via recall elections in our fair nation's history: California Governor Gray Davis in 2003 and North Dakota Governor Lynn Frazier in 1921.
In other Wisco-news, Romney is leading Santorum by seven points in the Wisconsin primary, according to an NBC News/Marist poll released today. On, Wisconsin!