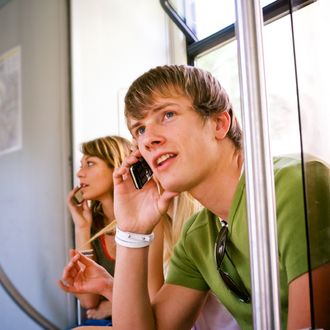 Photo: unknown/izabela Habur
For the past two years, the G Train has run five extra stops into South Brooklyn — Fourth Avenue–Ninth Street, Seventh Avenue, 15th Street–Prospect Park, Fort Hamilton Parkway, and Church Avenue — as a result of construction that prevented the train from turning around at Smith Street. That construction is coming to an end, and so, too, will the extension, unless the MTA changes its mind. That means, of course, that it might also spell doom to all the previously happy, geographically transgressive North Brooklyn-South Brooklyn couples, as the Brooklyn Paper reports. No more blissful Saturday nights strolling down Fifth Ave. with some boutique frozen yogurt from Culture followed by lazy Sunday mornings sipping Blue Bottle coffee. Nope, just alone-ness among your own kind.
"My girlfriend lives in Park Slope and we'll have to break up if the G line extension stops," James Botha wrote while signing a petition to maintain the train service. […]

G train boosting politician Lincoln Restler, who is circulating a petition to save the service, took to Twitter to make sure the MTA doesn't let the doors close on Brooklyn lovers.

"Relationships are statistically less likely to withstand multiple train transfers," he said.
There you have it. Transferring trains = worse than dying alone.