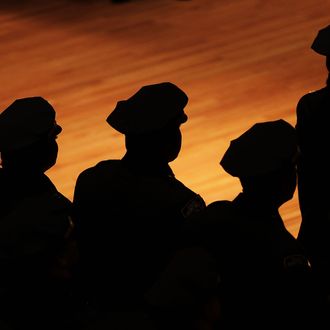 Photo: Spencer Platt/Getty Images
Asked about the NYPD spying meant to prevent terrorism, Mayor Bloomberg said last year, "We don't stop to think about the religion." As the Associated Press has repeatedly shown over the course of their investigation into the department's Demographics Unit, which spokesman Paul Browne once claimed does not exist, that's not exactly true. At all. And today's AP dispatch includes documents "that spell out in the clearest terms yet that police were monitoring people based on religion." As in, Catholics and Jews were specifically left out.
Intelligence gathering on the local Syrian population in 2007, for instance, noted that while the majority of the Syrians in the area were Jewish, "This report will focus on the smaller Muslim community." And Egyptians? "This report does not represent the Coptic Egyptian community and is merely an insight into the Muslim Egyptian community of New York City," said the report.
"We don't do it ethnically. We do it geographically," Police Commissioner Ray Kelly has claimed in the past. Bloomberg  has explained, not exactly accurately, "The communities, whether they're Muslim or Jewish or Christian or Hindu or Buddhist or whatever, all contribute to this city. We don't target any one of them. We don't target any neighborhood."
The mayor has since backed away from such absolutes, favoring a more general post-9/11 justification for what some call necessary security and others see as blatant civil liberties abuses. First, the city claimed the unit didn't even exist. Then it was that they only followed specifics leads. When that too was disproved, Bloomberg said, "When there's no lead, you're just trying to get familiar with what's going on, where people might go and where people might be to say something. And you want to listen. If they're going to give a public speech, you want to know where they do it."
He's said that the NYPD was just monitoring things that were out in the open and denied that the department overstepped their jurisdiction by gathering intelligence in New Jersey or at universities in the tri-state area. "It's the freedom of information," the mayor said. "Of course we're gonna look at anything that's publicly available and in the public domain. We have an obligation to do so." Pressed further, Bloomberg has dodged more pointed  questions about specific instances of spying, such as the undercover officer who accompanied some Muslim students on a rafting trip.
"We're doing the right thing," Bloomberg said today, quite generally. "We will continue to do the right thing. We do take every precaution possible to not do anything that ever violates the law. You've just got to be very careful not to take away the rights that we're trying to protect." The reports from 2007 include even second- and third-generation Muslims. No threats are listed.
Attorney General Eric Holder said yesterday that he found the AP's reports "disturbing." He added, "And these are things that are under review at the Justice Department."