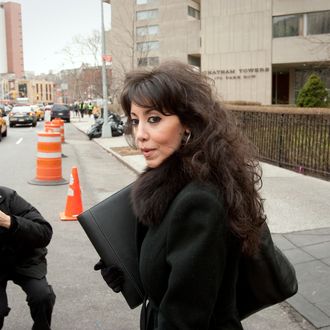 Sandy Annabi, former Yonkers city councilwoman, exits federal court following a pretrial conference in New York, U.S., on Tuesday, Feb. 14, 2012. Annabi is charged with public corruption crimes.
Photo: Scott Eells/Bloomberg via Getty Images
Political fixer Zehy Jereis and Sandy Annabi, a former city council member from Yonkers, stand accused of multiple counts of federal corruption. Allegedly, Jereis and another man swayed Annabi's votes, including the deciding one on a controversial Forest City Ratner development, via cash payments of $175,000. The defense doesn't deny that Jereis gave Annabi not just cash, but jewelry, car payments, and other gifts. But, said Jereis's lawyer in his opening statement earlier this month, it was not that he wanted  her vote, "but her body."* (Jereis's lawyer might do well on the writing team of a daytime soap opera if things ever go pear-shaped in his current career.) As the Times explains, the defense holds that "it was love, unrequited, at first sight."
Jereis — who happens to be a distant cousin of Annabi — said that he began dressing better, got his teeth prettified, and dropped 150 pounds from his then-400-poundframe in order to impress Annabi, whose campaign he was managing. According to him, the gift train wasn't just running on the outward-bound track: She gave him smaller things, like cologne and a watch. Jereis was married at the time, with two kids, but that apparently didn't stop him from having feelings. Or "sexual contact" of an unspecified kind (but not sex), according to his testimony yesterday. "I was not interested in her politics," he said. "I was interested in her."  And in 2005 letters that the defense trotted out to try to prove those feelings didn't begin after a strategy meeting in a law firm's conference room, Jereis does indeed refer to politics as being a conduit to something else: "Look what politics brought us, True Friendship."  You know, that thing Romeo and Juliet and The Princess Bride turn on. True … friendship.
Previously: Yonkers Corruption Trial Puts Forest City Ratner in the Spotlight
* The original version of this post incorrectly said that the defense's opening statement was yesterday.