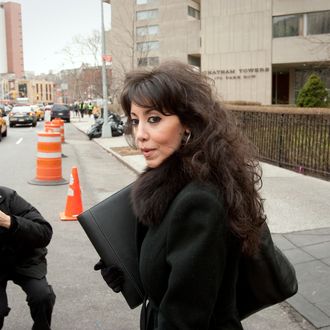 Photo: Scott Eells/Bloomberg via Getty Images
A federal jury has convicted former Yonkers City Councilmember Sandy Annabi and Zehy Jereis, her political mentor and campaign manager, of extortion and conspiracy to accept and give corrupt payments, related to two real-estate deals, including an $842 million Forest City Ratner development.*
The jury, which reached its verdict after more than four days of deliberation and several shouting matches, was not swayed by Jereis's claim that his payments to Annabi were motivated solely by his infatuation for her. The two are distant cousins. Jereis admitted to spending $174,000 on Annabi over seven years, including paying maintenance on her apartment, helping her lease a white Mercedes-Benz, and taking care of her utility and cable bills.
Prosecutors argued that the money enabled Jereis to control Annabi's vote — notably her decision in 2006 to support Forest City Ratner's giant Ridge Hill retail/residential project. The trial revealed the convoluted politics of Yonkers, the state's fourth-largest city, as well as Forest City Ratner's intensive effort to get Ridge Hill passed. After Jereis helped Forest City executives by setting up a meeting between them and Annabi, he asked for a job.
The company put him off until after Annabi voted, then gave him a backdated consulting contract and paid him $15,000 for three months even though he did virtually no work. A Forest City executive testified that Jereis "probably" would not have been hired if he had not produced Annabi's vote. Neither Forest City nor its employees were charged in the case.
According to the Journal News, Annabi faces twelve to fifteen years and Jereis fourteen to seventeen years, according to federal guidelines.
Brooklyn journalist Norman Oder is the author of the Atlantic Yards Report blog.
*An earlier version of this post incorrectly reported that the convictions included a bribery charge.