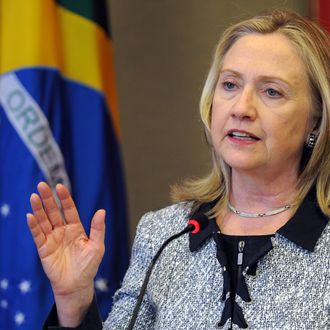 "Everyone chill."
Photo: EVARISTO SA/2012 AFP
If Hillary Clinton is interested in running for president again in 2016, a new PPP poll shows that she would have a pretty easy time winning the Democratic nomination. Clinton currently leads the highly speculative 2016 pack with 57 percent of the vote, compared to 14 percent for Joe Biden, 5 percent for Elizabeth Warren, and just 3 percent for Andrew Cuomo. There's one caveat, of course, which is that the year is currently 2012. So many things can happen between now and then that would make these poll results utterly irrelevant that it would be a complete waste of time to even begin list them. Nevertheless, here is such a list:
Hillary Clinton could actually enjoy retired life and not

 

run.
Hillary Clinton could be surpassed in popularity by Andrew Cuomo, or Elizabeth Warren, or pretty much anyone

 

else.
Hillary Clinton could sign a five-year contract with Dancing With the Stars as a judge or contestant, or as its first ever

 

judge/contestant.
Hillary Clinton could divorce Bill Clinton and elope to Vietnam with a 27-year-old surfing instructor named

 

Griffith.
Or possibly Australia, with a scuba instructor named

 

Phillippe.
Joe Biden could lock up the race by inventing a cure for cancer in his spare

 

time. 
HoloTupac could enter the race after the Supreme Court determines that the Founding Fathers did not expressly prohibit holograms from running for president when they wrote the

 

Constitution.
Supreme Emperor Romney could cancel the

 

election.
A meteorite could destroy North

 

America.
A meteorite could destroy South America while Hillary Clinton was there,

 

dancing.