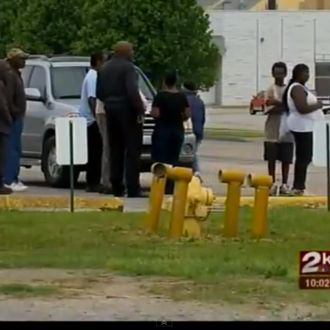 Law enforcement is investigating the possibility of a hate crime following a series of shootings in Tulsa, Oklahoma, which left two people injured and three dead. The victims, all of whom were black, were each shot while walking within the same three-mile radius late Friday night. Those killed have been identified as 49-year-old Dannaer Fields, 54-year-old Bobby Clark, and 31-year-old William Allen, while the names of the injured have not been released. So far, it does not seem that the victims were acquainted, and witnesses have described the shooter as a white man driving a white pickup truck. While police were initially hesitant to acknowledge a link between the crimes, Tulsa Homicide Sergeant Dave Walker told a local Fox affiliate that it was unusual to "have three dead bodies in one day spread out like we have here, one general geographic area. But yet, far enough apart where obviously someone is mobile."
He added that the crime was "unprecedented" and promised his department would act accordingly: "As you can see from the response, it's unprecedented and that is what we are doing." Since then, officers have ramped up their presence in the northern part of the city, where the shootings took place, and a police spokesman has told reporters, "This is not your standard homicide": 
"We're not absolutely certain, but a hate crime is a possibility. And we'll go with where the investigation leads us," he said … Tulsa police formed a joint task force with the local FBI office as well as the U.S. Marshals Service. In the event the shootings turn out to be hate crimes, "they can help us pursue it."
With investigators looking "round the clock" for a suspect, the NAACP has addressed the incidents, with local branch president Dr. Warren Blakney saying, "We're very concerned about targeting black people to shoot": 
"We have to handle this because there are a number of African-American males who are not going to allow this to happen in their neighborhood," said the Rev. Warren Blakney Sr., president of the Tulsa NAACP. "We're trying to quell the feeling of 'let's get someone' and we will make as certain as we can that this isn't pushed under the rug."

Blakney said "avid distrust" between the African-American community and the police department had raised concerns the shootings wouldn't be fully investigated, and he contacted police to emphasize the need for them to work together to avoid vigilantism.
He added that the police chief had assured him that they "are doing all they can" before emphasizing that, "We don't want anybody else hurt, white or black." Meanwhile, Tulsa pastor Ray Owens, who is already planning to speak about the shootings during his Sunday sermon, told Fox, "I don't want to over exaggerate the potential racial implications, but I don't want to ignore that either." So far, that seems unlikely. 
Update: Tulsa's police chief has confirmed that a 30-person team comprised of representatives from the Tulsa police, the Tulsa County Sheriff's Office, the U.S. Marshals Service, and the FBI is searching for a lone gunman. "We're coming for you," announced Chief Chuck Jordan, publicly addressing  the perpetrator of the "vicious and cowardly attacks." However, he acknowledged that the investigation could be a difficult one, as the physical description of the shooter — a white man driving an "older" white pickup truck — "probably accounts for 50,000 people in the city of Tulsa." Meanwhile, officers in North Tulsa are "going, literally, door to door, and asking people if they have seen anything [and] what their opinions and observations are."