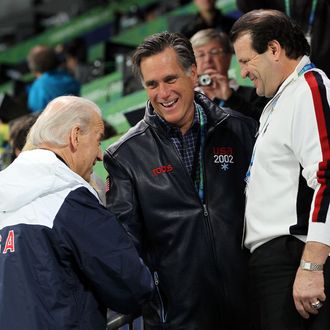 It's the first thing they've ever agreed on besides wearing goofy Olympic jackets.
Photo: Bruce Bennett/Getty Images
When Mitt Romney proclaimed last night, during his Super Snoozeday victory address in New Hampshire, that "everywhere I go, Americans are tired of being tired," it sounded like the introduction of a new, pithy campaign catchphrase, one we might hear sprinkled throughout stump speeches in the months to come. It's not clear whether Romney was consciously alluding to civil-rights leader Fannie Lou Hamer, who famously declared that she's "sick and tired of being sick and tired." But chances are he didn't intend to reference a more modern-day liberal activist: Joe Biden. Verbatim.
January 26, in Rochester, is, according to a Nexis search, when Biden used "Americans are tired of being tired" for the first time. As the AP reported:
Biden said after years of economic distress, "Americans are tired of being tired," and added that he's tired as well.
Most recently, Biden repeated the phrase on February 24 in Davidson County Community College, North Carolina:
"Americans are tired of being tired," Joe Biden said. "It's clear that the American people have decided it's time to get up. They're tired of being told that we're in a long, slow drift."
While two candidates on opposing presidential tickets are free to use the same line in their speeches, most would agree that doing so is awkward for the campaigns and disorienting for voters, who will have trouble remembering which candidate is the one promising to make them less tired. In other words, one of these guys should retire "America is tired of being tired." And it looks like Biden has what is known, in legal jargon, as "dibs."
Update: On Twitter, Biden press secretary Amy Dudley confirms that Biden is, in fact, calling dibs.