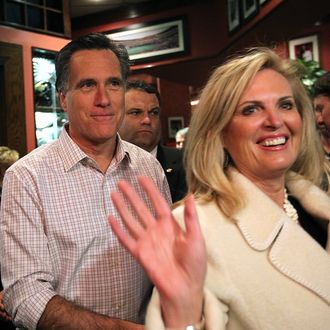 Ann with husband Mitt.
Photo: Justin Sullivan/2012 Getty Images
Hilary Rosen said on Anderson Cooper 360 Wednesday night that Mitt Romney's wife Ann hasn't worked a day in her life. Rosen, who's not affiliated with any campaign, made the comment while appearing in her capacity as a democratic strategist. During a segment concerning Mitt Romney's standing among female voters, Rosen said (emphasis added):
>
"What you have is, Mitt Romney running around the country saying, 'Well, you know, my wife tells me that what women really care about are economic issues. And when I listen to my wife, that's what I'm hearing.' Guess what: his wife has never really worked a day in her life. She's never really dealt with the kind of economic issues that a majority of the women in this country are facing in terms of how do we feed our kids, how do we send them to school, and why do we worry about their future."
Ann Romney, who recently created a Pinterest account, apparently decided to join Twitter to respond to the charge. A word of caution: Ann Romney's account is not "verified," so it's possible that anybody created the handle. Nevertheless, the purported Ann Romney Twitter account wrote on Wednesday:
I made a choice to stay home and raise five boys. Believe me, it was hard work.

— Ann Romney (@AnnDRomney) April 12,

 

2012
President Obama's campaign manager Jim Messina and top strategist David Axedrod also moved quickly — to Twitter, of course — to condemn the poisonous remark and distance themselves from it.
Messina wrote late Wednesday:
I could not disagree with Hilary Rosen any more strongly. Her comments were wrong and family should be off limits. She should apologize.

— Jim Messina (@Messina2012) April 12,

 

2012
Axelrod said a few minutes later:
Also Disappointed in Hilary Rosen's comments about Ann Romney.They were inappropriate and offensive.

— David Axelrod (@davidaxelrod) April 12,

 

2012
Polls revealed yesterday that Mitt Romney measured nearly twenty points behind Obama among female voters, and so the very, very likely Republican nominee has begun to make appeals to women by condemning the Obama administration for job losses suffered by females. There's roughly a 92 percent chance that Romney picks up on Rosen's comments on the trail tomorrow.
Shortly after her appearance, Rosen wrote on her account, "When I said @AC360 Ann Romney never worked I meant she never had to care for her kids AND earn a paycheck like MOST American women!"
Sounding a bit contrite later on, Rosen opened a one-way dialogue with the Ann Romney Twitter account.