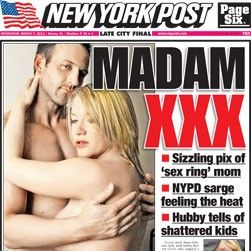 The New York Post insists its editor Col Allan isn't besties with accused Manhattan madam Anna Gristina, and to back it up, they're going to treat her the same as everyone else. Today's dirty laundry is what the tabloid alleges first put Gristina on the radar of investigators:
>
"I own New York!" accused Upper East Side madam Anna Gristina threatened a woman named Jennifer Billo in a June 2004 argument over use of the East 78th Street apartment that Manhattan district attorney investigators say was operating as a brothel, sources told The Post.

"I'm going down to the city, and I'm going to beat your head in with a baseball bat," Gristina allegedly told the blond beauty, resulting in the mother of four's first — and, until this year, only — arrest.
The Post says that this arrest was the start of the investigation into Gristina's Upper East Side business, three years earlier than previously reported.