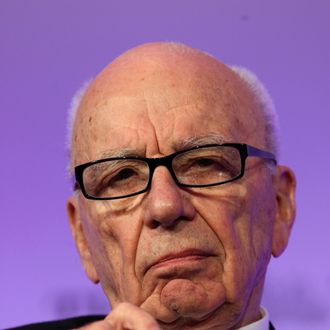 Photo: WPA Pool/2011 Getty Images
Sky News, which is partially owned by Rupert Murdoch's News Corporation, has admitted that editors authorized e-mail hacking by a reporter in the case of Britain's "canoe man" John Darwin, who faked his death and moved with his wife to Panama on life insurance. Upon the Darwins' return and subsequent trial, Sky News "uncovered documentary evidence" about the plot, which the Guardian reports today meant hacking the man's e-mail, but "in the public interest," according to Sky editors. At this point, for the Murdochs to be anywhere near the word hacking does not look good. 
This week, James Murdoch stepped down as chairman of Sky News' parent company BSkyB. Companywide, editorial standards are under extremely close inspection, and for good reason, amid News Corp.'s ongoing phone-hacking and police-bribery scandals. 
John Ryley, the head of Sky News, said a journalist was authorized to access private e-mails of criminal suspects using "finely balanced judgment," and deemed the action "justified." The Guardian reports that intercepting e-mails is in fact illegal, and that there is no public-interest defense in law.
However, the broadcaster turned the e-mails over to police, whose first priority was not figuring out where they came from. One lawyer said "the difficulty for news organizations is the question of where do you draw the line: would it be legitimate to break into somebody's house who is suspected of committing a crime? The issue with computer offenses is that people can do it from their offices, and believe it is a lesser offense than any other type of intrusion."
Ryley said there were "no grounds for concern" regarding any other journalists at Sky News, but we have heard the rogue-reporter defense before.