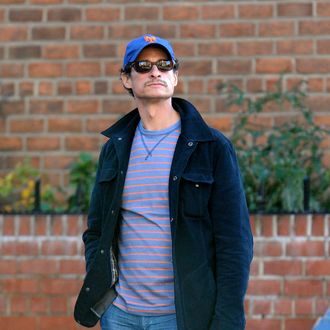 Photo: Hector Vallenilla/PacificCoastNews/Newscom
Robert Draper's forthcoming book Do Not Ask What Good We Do: Inside the U.S. House of Representatives explores the most mature, functional branch of our wonderful government beginning after the Republican takeover in 2010. Mike Allen's Politico Playbook today has a few tidbits from inside the tome, the funniest of which describes a very ambitious and spirited Anthony Weiner pre-Twitter bulge:
"[Rep. Anthony Weiner] would enter in his office in the Rayburn Building screaming at the top of his lungs, 'Why the fuck am I not on MSNBC?!' When the health care debate kicked in, Anthony Weiner became the one-man standard-bearer for the single-payer system. He was now on MSNBC every week, sometimes every day – to the point where he was carrying his own makeup kit. (Or rather, his press guy was.) But because he believed that a fighter should also go into the enemy camp, he was also the designated liberal brawler on Fox. He rather enjoyed his screaming matches with Fox hosts Sean Hannity and Megyn Kelly. It burned bile, he liked to say."
As reported previously by New York's John Heilemann, Weiner got so good at going on television to sell health-care reform that he had the confidence to deliver some unsolicited tips to President Obama:
"In September 2009, after spending a day with Obama in New York to promote a financial reform bill, Weiner hitched a ride back to Washington on the president's private plane — and, being Weiner, couldn't resist giving the leader of the free world some advice on how to achieve health reform'Mr. President, I think you're looking at this entirely the wrong way,' he said. 'You need to simplify it. Just say that what we're doing is gradually expanding Medicare.' Weiner was advocating a single-payer system. 'We don't have the votes for that,' said Obama. 'Mr. President,' said Weiner, 'you only have votes for something when you go out and fight for them.' At least Obama had a sense of humor. 'Well,' he'd said with a grin after their conversation was done, 'enjoy your last ride on Air Force One.'"
How prescient.