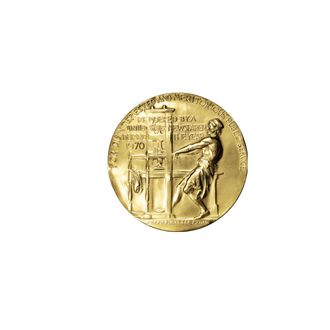 The 2012 Pulitzer Prize winners were announced this afternoon and include Matt Apuzzo, Adam Goldman, Eileen Sullivan, and Chris Hawley of the Associated Press for their in-depth reporting on the NYPD's surveillance of Muslim communities. Speaking about the series last month, NYPD Commissioner Ray Kelly said, "We're sort of under attack. The A.P. has done over 30 stories. It's pretty tough to go up against a wire service that has a certain template that it's sticking to. I would submit that they have not done their homework." The judging board obviously disagrees.
Elsewhere in the competition, first-time winners include Politico, whose Matt Wuerker won for editorial cartooning, and the Huffington Post, which was rewarded in the national-reporting category for David Wood's Beyond the Battlefield series. Twenty-four-year-old Sara Ganim took home the local-reporting award for her work on the Penn State scandal, while the New York Times, an old favorite, won twice. A winner was not named for editorial writing, nor did anyone come away with the fiction award in the Letters, Drama, and Music section.
The full list of winners can be seen here.