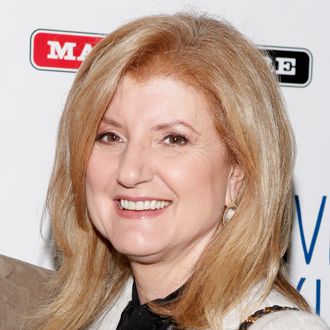 Photo: Cindy Ord/2011 Getty Images
Since buying the Huffington Post for more than $300 million just over a year ago, the site has been a bright spot for AOL, whose own online properties aren't exactly thriving. Arianna Huffington, on the other hand, has seen traffic for the Huffington Post Media Group, of which she is president and editor-in-chief, go up, and so she's leveraging that power now. The New York Times reports today that Huffington will take over the technology, business development, marketing, and communications parts of the company that were previously reporting to different departments within AOL. And no one's going to stop her. 
AOL CEO Tim Armstrong recently had his contract extended through 2016, and may very well owe that to Huffington's successes (though his acquisition did make that possible). In public, Huffington is at least a team player, telling the Times, "We could not have possibly had the growth we've had without the help of AOL," and insisting there's no plan to spin-off HuffPo.
Asked about Huffington's well-known ambitious streak earlier this year, Armstrong praised her "special sauce" and said, "When you bring superstars in, it's easy to conjecture that there's going to be some massive power struggle. In reality, one of my core skill strengths is that I'm O.K. playing on an all-star team. My job, as coach and captain, is to bring in multiple Michael Jordans." Right now, he seemingly has one Jordan, and better keep her happy.
Update: Business Insider sees the changes at AOL as a "demotion" for Arianna.
For example, Huffington no longer has oversight over TechCrunch, Engadget, Moviephone, Stylist, AOL Video, or, most importantly, AOL.com. Combined, those sites – recently removed from Huffington's portfolio – account for audience more than 50 million people strong.
However, "[Huffington] is really happy with what's going on," says an anonymous source. "She's feeling more liberated, being able to exert her leadership across a wider array of stuff. The truth is that AOL is slow and plodding and sclerotic. Arianna is trying to break free from that."
Related: Maharishi Arianna [NYM]