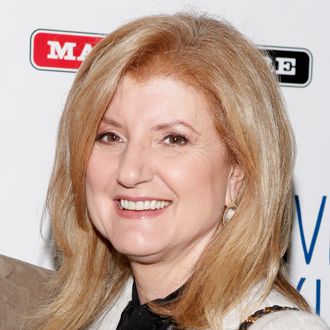 Photo: Cindy Ord/2011 Getty Images
The Huffington Post won its first Pulitzer Prize today for veteran military reporter David Wood's ten-part series about wounded soldiers, Beyond the Battlefield. "It's really a commitment to stories that may not drive traffic," a validated Arianna Huffington told Daily Intel soon after the winners were announced. The victory is a big one for a site that has long been criticized for recycling the journalism of other news organizations and pairing it with trashy celebrity content like, say, a braless Miley Cyrus.
Huffington insisted the site has been doing serious, original reporting "for years now," but is just getting recognized. "We added original reporting as soon as I could," Huffington said. "Things change and it takes a while for the narrative to be updated, because we did start as primarily a place for aggregation. This award makes it easier for the reality and the narrative to come together."
Wood's national-reporting winner was written over the span of eight months, focusing on wounded U.S. troops returning from Iraq and Afghanistan, and included multiple reporting trips overseas. "One of the things that came out of this is a realization that we wanted to launch a weekly magazine app that would be a more permanent silo for our feature work," said HuffPo executive editor Tim O'Brien.
This was the first year the site has submitted work for Pulitzers, said the editors, and along with Wood's series, Chris Kirkham's reporting on for-profit colleges was put forward for consideration. "But it's kind of great that David won," Huffington said. "David is 66 and Chris is 28, so he has plenty of time to win a Pulitzer."