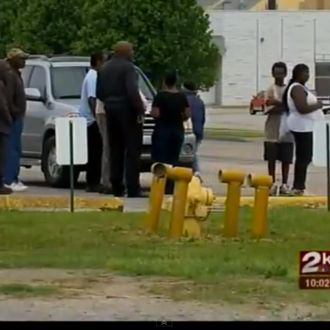 Tulsa police have arrested two men suspected of carrying out a series of shootings in the city Friday night. The suspects, 19-year-old Jake England and 32-year-old Alvin Watts, are accused of killing three people and injuring two, all in a three-mile radius within the predominantly black northern part of the city. The New York Times reports that both men are white, and as all the victims were black, this will do nothing to quell fears that the shootings were hate crimes. However, police have not yet decided on a reason for the shootings. "There obviously still is a lot of investigation" ahead, police spokesman Jason Willingham told the AP. "We don't have a motive at this time. We are still asking questions and hopefully that will become clear in coming days."
While police feel that the shootings were linked, they're not sure they're dealing with a hate crime yet, despite the race of the accused and the victims. "There's a very logical theory that would say that that's what it could be," Police Chief Chuck Jordan said in a press conference. "But I'm a police officer. I've got to go by evidence."
Tulsa councilman Jack Henderson felt that race had to be a factor:
"You have somebody white who has come into a community and taken shots at, killing black people" Mr. Henderson, whose district includes all of the shooting sites, said Saturday in an interview with CNN. "To me, that would indicate that we have some kind of a racial problem."
Although initial reports stated that police were looking for one suspect, they believe that both men were involved. Reportedly the shooters, riding in a white pickup truck, would ask their victims for directions and then shoot them as they walked away.