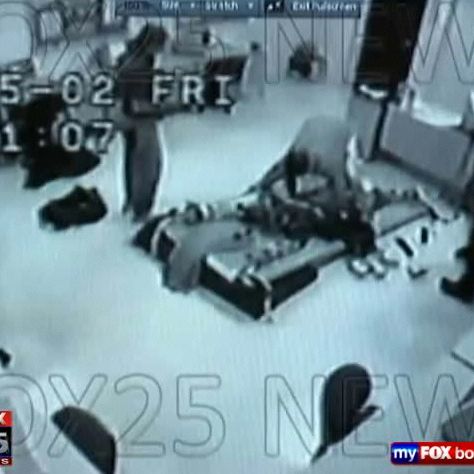 For years, the state of New York has been sending troubled kids to a notorious "school" in Massachusetts known as the Judge Rotenberg Center, where students who don't follow the rules receive painful electric shocks. The "treatment" at the center has nothing to do with electroconvulsive therapy, where people with severe depression are induced into having seizures under anesthesia — it's behavior modification for troubled children, and the Rotenberg Center is the only place in America that uses this approach.
Students have electrodes attached to their limbs, and staffers trigger the shocks by remote control; the kids never know which limb will be zapped. How exactly does this work? Well, you can now see for yourself. Video footage of an 18-year-old autistic boy from Brooklyn was played in a Massachusetts courtroom this week — and recorded by a local Fox TV reporter. In the video, 18-year-old Andre McCollins is shocked 31 times while tied to a four-point restraint board after refusing to remove his coat.
Critics have been trying to shut down the Rotenberg Center for decades, but it's still open today, and now houses 84 kids and 36 adults from New York. The annual cost per student is $220,000, which at this rate would total about $25 million a year in Empire State funding – some of which has in turn been spent on lobbyist payouts. In 2010, the Rotenberg Center paid $100,000 to Rudy Giuliani's law firm, Bracewell & Giulani, to help fight for the right to keep administering electric shocks.
Originally, the Rotenberg Center was set up to treat the most troubled children: severely autistic and mentally retarded boys and girls whose behavior was so aggressive and self-destructive (pulling out clumps of hair, banging their head against the wall for hours) that nothing else seemed to work — except aversion therapy in the form of electric shocks.
 
Over time, however, the Rotenberg Center expanded its mission and began taking in all sorts of troubled kids: kids who'd been diagnosed with ADD or ADHD, kids who'd been to jail, kids who had bipolar illness or schizophrenia, kids who'd been booted out of other treatment programs. It even runs radio ads to bring in new students, including a spot on Hot 97 last year that prompted threats of a boycott by a children's rights advocate.
 
In 2006, I visited the Rotenberg Center and later wrote about the place for Mother Jones. At the time, it was teeming with kids from New York City, many from the city's poorest neighborhoods. One of the youngest was a 9-year-old named Rodrigo. There was no rule about how old you had to be to receive shocks; he was wearing electrodes on his legs so that staffers could zap him if he misbehaved. "I want to move to another school," he told me. As I walked through a classroom, a 15-year-old girl from the Bronx held up a sheet of paper where she'd scribbled a message with pink marker: "HELP US."
 
Four years earlier, in 2002, Andre McCollins walked into a Rotenberg Center classroom at 9:33 a.m. and refused to take off his coat. "It was a new classroom," said his lawyer Ben Novotny of Lubin & Meyer in Boston. "He doesn't like change." For this transgression, Andre received one shock.
 
He then tried to crawl under a table. "Staffers pulled him out and put him in a four-point restraint face down," Novotny says. While restrained, he kept screaming and tensing up his body, prompting 30 more shocks. Finally, at 4:30 p.m., the staffers untied his restraints. "The entire weekend, he spent in a psychotic, catatonic state," Novotny says. "He has permanent brain damage from the stress response from that day."
 
After this incident, Cheryl McCollins, Andre's mother, sued the Rotenberg Center. She's not the first New York parent to sue. In 2006, Evelyn Nicholson filed a lawsuit after her 17-year-old son Antwone was shocked 79 times in eighteen months. But McCollins and her lawyer have accomplished something that no one else has managed to do: show the public exactly what it looks like when a student is being shocked. More video was aired in court on Wednesday, and the trial is expected to continue until the middle of next week.