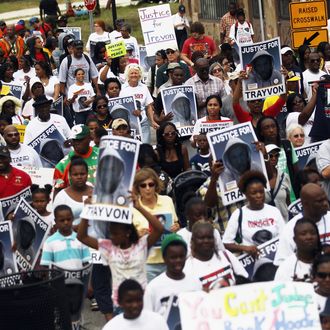 Photo: Mario Tama/2012 Getty Images
The shoddy website created by soon-to-be-charged Trayvon Martin shooter George Zimmerman features a few cryptic quotations, like Thomas Paine's "The world is my country, all mankind are my brethren, and to do good is my religion." But among the dead-white-guy wisdom is a line from Lies My Teacher Told Me author Jim Loewen, who is very much alive. "I'm not happy with being used as a resource by George Zimmerman, and I disclaim any relationship with him and his cause," the sociologist and historian writes today.
"The Facts" section of Zimmerman's website contains the Loewen quote, "People have a right to their own opinions, but not to their own facts. Evidence must be located, not created, and opinions not backed by evidence cannot be given much weight." The writer is aware that his words can be used (and twisted) freely by whomever, and approaches the unfortunate association with some humor: "I'm happy to be in the company of Burke, Ibsen, and Paine. Who knows?  Maybe Zimmerman will get me into Familiar Quotations." But he's mostly just curious about where Zimmerman got the idea:
I would like to know how George Zimmerman learned of my words that he used. They appear on page 358 of Lies My Teacher Told Me. While I would like to believe he read the entire book, if he did, he seems to have missed its anti-racist central message.
Zimmerman's website was last updated with a thank you note to his supporters yesterday at 1:30 p.m., a few hours before Zimmerman's lawyers quit because they couldn't get in touch with him. He also seems to have removed a photo of potentially racist pro-Zimmerman vandalism. This website stuff can be stressful.