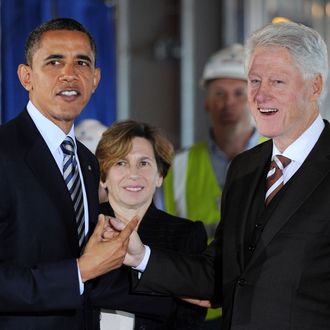 Best friends for a few months.
Photo: Pool/2011 Getty Images
Best friends they're not, but what's good for former president Bill Clinton right now is good for the incumbent. At a fund-raiser Sunday night at the Virgina home of Terry McAuliffe, a businessman and former chairman of the Democratic National Committee, Clinton urged the nearly 600 guests (most of whom paid $1,000 each for the outdoor reception; 80 paid $20,000 for an exclusive dinner indoors), "Barack Obama deserves to be reelected."
When Obama spoke, he paid compliments to Clinton. "I didn't run for president simply to get back to where we were in 2007," Obama said. "I didn't run for president simply to restore the status quo before the financial crisis. I ran for president because we had lost our way since Bill Clinton was done being president."

Clinton, who will join Obama at two more fund-raisers, also put Obama's task in perspective.
"The man's not Houdini, all he can do is beat the clock," Clinton said, discussing the U.S.'s economic recovery. "The last thing you want to do is to turn around and embrace the policies that got us into trouble in the first place."
A Democrat who worked for both Obama and Clinton told the Times of the pair's relationship, "There's no love lost. But Bill Clinton is not stupid. He knows if he can give a little of his 60-percent-plus approval rating halo to Obama, and Obama does well, that only helps Clinton." The source continued, "And it helps the missus if she wants to run." Perhaps one day she'll send Obama some drunk texts from the White House.
All told, the event raised $2.1 million for the Obama Victory Fund, a joint fund-raising committee of the president's reelection campaign, the Democratic National Committee, and several state Democratic parties.
"You guys get two presidents for one, which is a pretty good deal," Obama said. Although we're pretty sure the folks who dropped a check for $20,000 paid sufficiently for both.