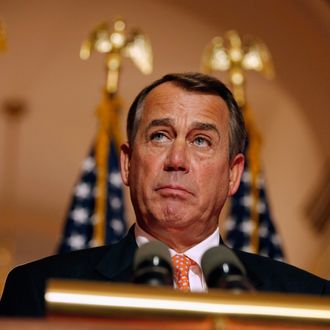 Boehner.
Photo: Chip Somodevilla/Getty Images
The heart of Obama's slow jam on Fallon Tuesday night — an impending rate jump on federally subsidized student loans this summer — became the subject of political jockeying on Wednesday, which culminated in House Speaker John Boehner's announcement that the House would hold a Friday vote to maintain the reduced rate. Yes, the catch: Republicans want to pay for the $6 billion cost by cutting from a $17 billion fund in Obama's health-care law, which is tabbed for immunization campaigns, research, screenings, and wellness education. Republicans rejected a Democratic proposal to pay the cost by imposing new payroll taxes on some small businesses, which Democrats said would "close a loophole that allows some businesses with three or fewer shareholders to avoid payroll taxes."

"You know, this week the president's traveling the country on the taxpayers' dime, campaigning and trying to invent a fight where there isn't one and never has been one on this issue of student loans," Boehner said. "We can and will fix the problem without a bunch of campaign-style theatrics."

Prior to Boehner's announcement, both parties had reportedly been going at it on the issue, although both do support keeping the interest rate on the federally subsidized loans as it is, at 3.4 percent. If legislators don't take action, the rate would double to 6.8 percent on July 1, affecting roughly 7 million borrowers.
On Wednesday, Occupy protesters in Union Square focused on the issue as well. "The student debt in this country is astronomical, and I don't think people should get in debt trying to get an education. I don't think that's very fair," said one protester. "The people are going to be productive citizens, they're going to help our economy."

According to the Times, White House officials said Republicans are only now publicly voicing support for a measure to maintain the status quo on the interest rate because the president had embarrassed them on the issue. The power of slow-jamming?