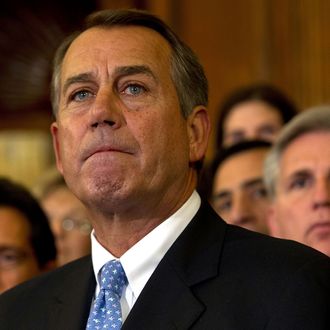 Boehner.
Photo: Alex Wong/2011 Getty Images
Apparently John Boehner is now in the odds-making business. In an interview with Fox to air on Tuesday, Boehner reportedly says in response to a question about the Republicans keeping control of the House, "I believe that we will, but we've got a real challenge." Further, "I would say that there is a two-in-three chance that we win control of the House again but there's a 1-in-3 chance that we could lose, and I'm being myself, frank."

Politico notes that Boehner's assessment contrasts dramatically with his sentiment in November when he told the website, "It was 'nearly impossible' for Democrats to win it back in November and it was 'quite likely' his party would maintain control of the House through at least 2020."
A Boehner spokesman told CNN that the Speaker's comments were a deliberate move to remind supporters and potential donors that House Republicans need support in the fall.
We did a little line shopping and found that Boehner's motivational tactic underestimates the GOP's standing by about 12 percent: Intrade currently gives the Republicans a 78.4 percent chance of maintaining control of the House.